Sandalwood drug case: From high-end parties to sleeping in police van; journey of actress Sanjjanaa
Actress Sanjjanaa's name and controversy are like synonyms. After her arrest and changing statements, here are incidents which remind us of previous controversies she has been involved in. And how her 14-year-old career received a blow.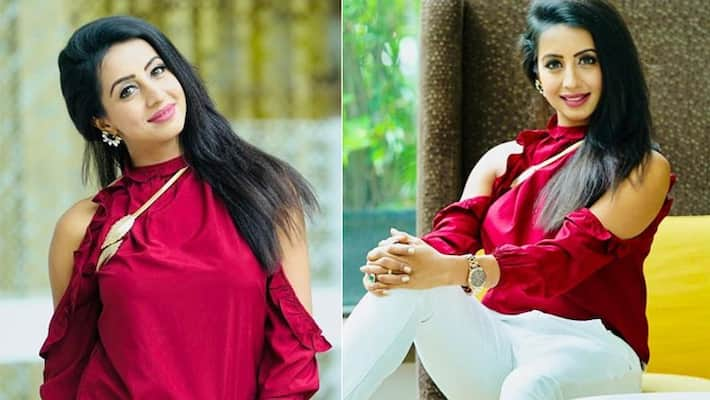 Bengaluru: Actress Sanjjanaa Galrani, a Sindhi from Bengaluru stepped in Sandalwood film industry after her first modelling assignment.
However, all was not dreamy as she aspired as she attracted criticism for her role in her first film, Ganda Hendathi, a remake of Bollywood movie Murder.
The actress had then dropped a bomb accusing the director of forcing her to enact intimate scenes. The issue was then sorted after rebel star Ambareesh intervened.  
The actress then acted in Telugu, Malayalam and Tamil movies and established herself.
However, another controversy broke out after her naked pose for Dandupalaya, a real life based story of notorious gang known for loot and murder stormed the industry and fans; there were protest to stall the film.
Also read: Sandalwood drug case: CCB likely to seek extension of Ragini Dwivedi's custody
Last year, the actress was involved in a drunken brawl with another socialite Vandana Jain. Both had become a subject of debate in the regional media. The actress was accused of attacking Jain with 'whiskey'.
In January 2020, the actress took to the streets in a brand-new car and made a selfie video while driving and landed in controversy as it violated traffic rules.
Sanjjanaa was said to be in demand in party circles abroad as well and spent her days in swanky hotels due to her assignments but all was not hunky dory. As fate had other plans, she was once seen sleeping in a police van as the cops took her to investigate from the remand home.
The actress who claimed she is not married and is single, said that the hounding of media and allegations by Prashanth Sambargi, an activist about her partying in Sri Lanka with MLA will affect her marriage life later. However, her claims are doubtful as a picture of her in a bridal costume with Manipal Hospital doctor Azeez Pasha has further busted her lies.
Last Updated Sep 11, 2020, 10:30 AM IST