'Main Vikas Dubey hoon Kanpur wala': UP gangster shouts after arrest; mother reacts
Gangster Vikas Dubey was wanted in connection with the Kanpur ambush in which eight policemen were killed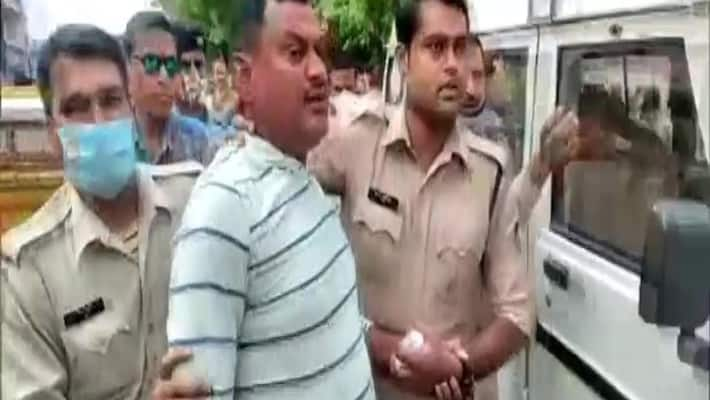 Ujjain: Dreaded Uttar Pradesh gangster Vikas Dubey was arrested in Madhya Pradesh's Ujjain on Thursday (July 9).
Dubey, who was absconding for the last six days, was visiting Ujjain to offer prayers at Mahakaal Temple. Dubey was identified by a security guard at the Mahakaal Temple and was immediately apprehended by the Ujjain Police.
Shortly after his arrest by Ujjain Police, Vikas Dubey said, "Main Vikas Dubey hoon Kanpur wala".  Then a police officer slapped on the back of Dubey's head asking him to keep quiet.
According to reports, Dubey apparently came to Ujjain with the plan of surrendering before Madhya Pradesh Police as he feared that Uttar Pradesh Special Task Force was on the hunt for him and some of his closest aides were killed in the last two days.
Madhya Pradesh chief minister Shivraj Singh Chouhan congratulated Ujjain Police and said that those who think that Mahakaal will wash off their sins do not know Mahakaal at all. He asserted that Madhya Pradesh government will not spare criminals at all.
"His (Vikas Dubey's) in-laws are in Madhya Pradesh. He visits Ujjain Mahakal Temple every year. It doesn't matter what I say, the government is going to do what is appropriate," said Sarla Devi, mother of Vikas Dubey, after his arrest in Ujjain.
Earlier on Thursday morning, two close aides of Vikas were gunned down in separate encounters in Uttar Pradesh. While Kartikeya alias Prabhat was killed in Kanpur when he tried to flee from police custody, another aide Praveen alias Bauwa Dubey, was shot dead in an encounter in Etawah, police said.
Bauva carried a reward of Rs 50,000 on his head and was one of the accused in the ambush in Bikru village. Bauva was killed in an encounter in Etawah by a joint team of UP Police and Special Task Force.
Prabhat was arrested by Haryana Police on Wednesday (July 8) and was being brought to Uttar Pradesh on a transit remand for further interrogation when he tried to escape from police custody and was shot dead.
Last Updated Jul 9, 2020, 1:03 PM IST