West Indies spinner Sunil Naraine retires from international cricket; vows to continue in franchise leagues
Sunil Narine, West Indies' famed spinner, retires from international cricket, reflecting on a career marked by achievements, controversies, and a commitment to continue in franchise cricket.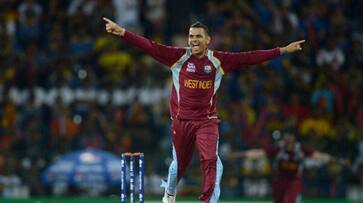 West Indies' enigmatic spinner Sunil Narine made headlines on Sunday by declaring his retirement from international cricket, marking the end of a career fraught with both on-field successes and controversies. Narine, a crucial member of the West Indies' victorious 2012 ICC T20 World Cup squad, last represented his country in August 2019 during a T20I clash against India in Providence. The 35-year-old took to his Instagram account to share, "I appreciate it has been over four years since I last played for West Indies, but today, I am announcing my retirement from International cricket."
Despite his public reticence, Narine expressed gratitude to a select group who steadfastly supported him throughout his journey, enabling him to fulfill his dream of representing the West Indies. He specifically thanked his family, particularly his father, and those who contributed to his career as he bid adieu to top-level cricket.
Also read: India vs South Africa: Over 55,000 fans sing Vande Mataram, light show illuminates Eden Gardens (WATCH)
Acknowledging the support from Cricket West Indies, coaching staff, enthusiastic fans, and his teammates, Narine recognized the platform that allowed him to excel at the highest levels across all formats, leading to remarkable successes. While currently participating in the ongoing Super50 Cup for Trinidad and Tobago, Narine declared that this tournament would mark his final appearance in List-A cricket.
Despite stepping away from domestic 50-over cricket, he conveyed his love for representing Trinidad & Tobago, expressing a desire to conclude his career by clinching the ongoing Super50 Cup. However, he reassured his commitment to franchise cricket, indicating his intent to continue actively participating in this arena.
Narine initially gained attention during the now-defunct Champions League T20 in 2011 while playing for Trinidad, showcasing his ability to bowl various deliveries, including skidders, knuckleballs, and carrom balls. His international journey began in 2011 during an ODI against India in Ahmedabad. Throughout his international career, Narine featured in 65 ODIs, securing 92 wickets, along with appearances in six Tests and 51 T20Is, accumulating 21 and 52 wickets, respectively.
A significant figure in the Indian Premier League (IPL), representing Kolkata Knight Riders since 2011, Narine also emerged as a highly sought-after player in T20 leagues worldwide. Despite facing bowling action-related suspensions, he adjusted and continued to make a substantial impact. His batting prowess as an aggressive opener also drew attention and accolades across various T20 leagues.
Also read: Virat Kohli equals Sachin Tendulkar: Over 4.3 crore fans witness King's 49th ODI ton on 35th birthday (WATCH)
Last Updated Nov 5, 2023, 9:04 PM IST