Watch: When MS Dhoni quizzed Sushant Singh Rajput
Here is a video where MS Dhoni is seen asking questions to Sushant Singh Rajput before the release of M.S.Dhoni: The Untold Story. Sushant committed suicide in Mumbai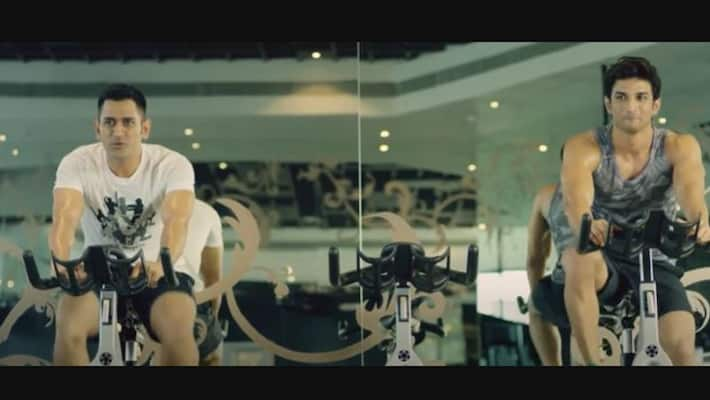 Bengaluru: It has come as a shock for Bollywood and cricket fraternity that young actor Sushant Singh Rajput has committed on Sunday morning (June 14) at his Mumbai home.
Photos: MS Dhoni-Sushant Singh Rajput memorable moments
Sushant's connection with cricket and the sport's fans is thanks to his hit movie on MS Dhoni's biopic. He aced the role perfectly. He was appreciated by all for playing the Indian captain in the Hindi film M.S.Dhoni: The Untold Story. This was the biggest hit of his career.
Also read: Cricketers mourn loss of Sushant
The actor has passed away at the age of 34. Bollywood and cricketers including captain Virat Kohli, took to social media to mourn the loss of Sushant.
Looking back, it is worth watching a video from FoxStarHindi when it had posted a video where Dhoni is quizzing Sushant about how well does the actor know about him. This was part of the movie promotion in the year 2016.
In the video, both Dhoni and Sushant are seen cycling in a gym. The cricketer starts off by asking Sushant, "I have heard that you have done a lot of research (on me)." The actor replied, "Yes, I have done a lot".
Then, Dhoni begins asking Sushant questions. The first one is about how many bikes he owns. As he goes on, in between, Sushant tells Dhoni to ask him "tough questions".
With both smiling, the 53-second clip, towards the end, sees Sushant asking Dhoni, "How many girlfriends do you have?". Watch the video below.
Last Updated Jun 14, 2020, 5:11 PM IST