Watch: 7-year-old Rohtak girl Pari Sharma's batting impresses former cricketers, netizens
Seven-year-old Pari Sharma, from Rohtak, Haryana, has become an internet star with her batting video. Her batting technique has impressed former and present cricketers and also netizens. Watch her batting skills here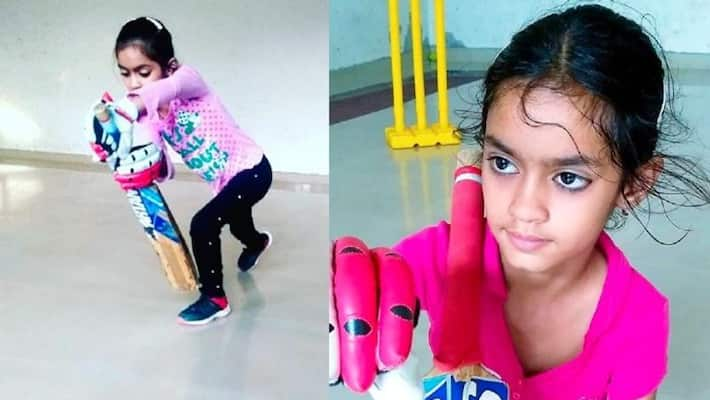 Bengaluru: A seven-year-old Indian girl has impressed present and former cricketers around the world with her batting. A video of her batting has gone viral on social media during the lockdown in the country due to the coronavirus (COVID-19) pandemic.
Former England captain Michael Vaughan, ex-Australian batsman Dean Jones, current West Indies batsman Shai Hope and many fans have praised the girl for her batting technique.
Also read: Exclusive Interview (Part 1) with Irfan Pathan
The seven-year-old Pari Sharma hails from Rohtak, Haryana. On her Instagram page, there are many videos of her batting. She has now become a star on the internet.
Also read: When Virat Kohli cried till 3 am
Vaughan commented on Pari's video, "Have a look at this video .. Pari Sharma .. 7 yrs old .. Her movements are as good as it gets (sic)." The video shared by Vaughan was retweeted more than 200 times and there were over 2,000 likes.
Australia's Jones wrote, "Outstanding!!!". Hope commented, "When I grow up I want to be like Pari Sharma!".
The video shared by Hope was retweeted more than 1,500 times and got over 13,500 likes. The video, originally shared by espncricinfo, has been viewed over 4.7 lakh times. On April 22, former England captain Nasser Hussain commented on the video saying, "This is a great video !! For so many different reasons..... (sic)."
Due to the rapid spread of the coronavirus, all cricket matches have been suspended around the world. IPL 2020 has been suspended indefinitely.
Last Updated Apr 23, 2020, 4:38 PM IST