Virat Kohli pens letter to 15-year old Chiku on his birthday
Indian captain Virat Kohli who turned 31 on Tuesday, penned an emotional letter which he addressed to the 15-year-old version of himself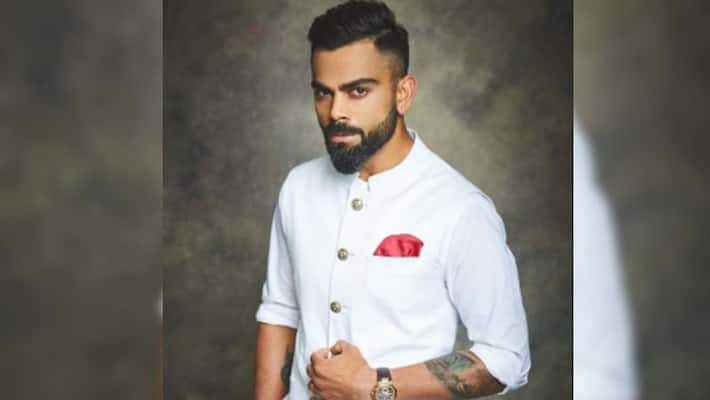 Mumbai: On the occasion of Virat Kohli's 31st birthday the Indian captain penned a letter to his 15-year old self. The letter, which captures Virat's reflections on his teenage years, is also a message for his animated avatar, which is being born across millions of TV, websites and digital screens today.
'Super V' is an animated series about a 15-year old aspiring cricketer inspired by Indian Captain Virat Kohli's teenage years. The 15-year old Virat discovers he has superpowers and assumes the responsibility of fighting the looming threat of a super-villain, who can destroy the world. While he vanquishes villains, he also has to deal with the everyday issues that an ordinary teenager faces. The 12-part series premieres on the occasion of Virat Kohli's birthday in 70+ countries across five continents via the Star network and Hotstar. Commissioned in 2017, Super V has been produced as a collaboration between Star India, Cornerstone Animation and Baweja Movies. The series premiere will be telecast today at 3:30pm and will be telecast every Sunday  at 9am and 4pm on Star Plus, Star Sports, Disney Channel and Marvel HQ. 
Virat, in his letter advises his 15-year old self to chase his dreams while cherishing reality. He also wants himself to grab every opportunity that comes his way without letting go of a single moment that he can avail with his family. 
Here is the full text of the letter:
Hi Chiku,
First of all, a very happy birthday! I am sure you have a lot of questions for me about your future. I am sorry but I am not going to answer too many of them. Because not knowing what's in store makes every surprise sweet, every challenge thrilling and every disappointment an opportunity to learn. you don't realize it today but it's more about the journey than the destination. And the journey is SUPER!
What I will tell you is that life has big things in store for you Virat. But you need to be ready for each and every opportunity that comes your way. Grab it and when it comes and never take what you have for granted. You will fail. Everyone does. Just promise yourself to rise. And if at first, you don't, try again.
You will be loved by many and will be disliked too. By some who don't even know you. Don't care about them, keep believing in yourself.
I know you're thinking those shoes dad did not gift you today. They mean nothing when compared to the hug he gave you this morning or the joke he cracked about your height. Cherish this. I know he can seem strict at times. But that's because he wants the best for you. You feel that our parents don't understand us sometimes. But remember this - only our family loves us unconditionally. Love them back, respect them and spend all the time you can with them. Tell Dad you love him. A lot. Tell him today. Tell him tomorrow. Tell him more often.
Finally, just follow your heart, chase your dreams, be kind and show the world how dreaming big makes all the difference. Be you.
And...savour those parathas buddy! They'll become quite a luxury in years to come. ;)
Virat
Make every day super!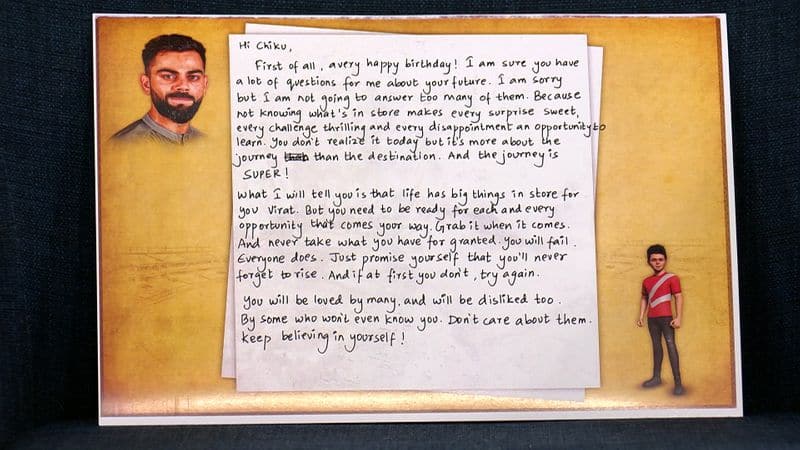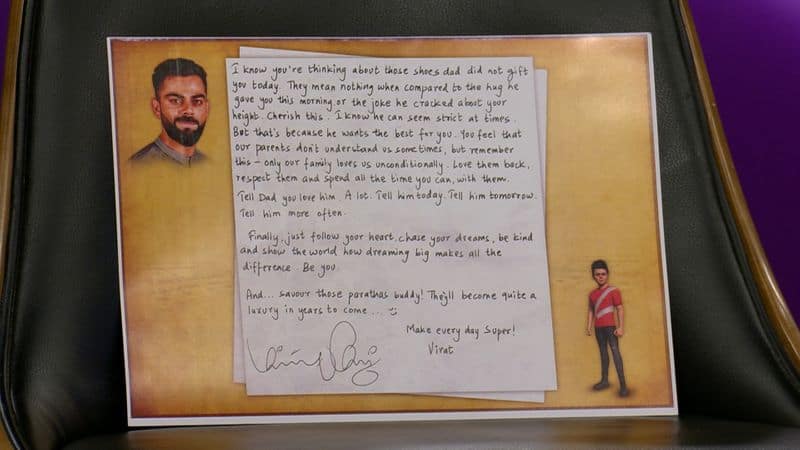 Virat's journey in Super V is also inspired by real-life incidents from the cricketer's life so it's appropriate that Virat himself makes an appearance in every episode to underline what he thinks the life-lesson in that episode is. His appearance as a 'sutradhaar' in Super V is aimed at connecting Virat with young viewers across the country and hopefully helping them in a small way in their own personal journeys. 
The series mainly aims to emphasize the balance between power and responsibility, freedom and accountability, self-confidence and humility and most importantly, loving yourself and loving others.
Last Updated Nov 5, 2019, 1:29 PM IST