Unbelievable! This fan predicted Virat Kohli's record-breaking 50th ODI ton 11 years ago; details here
In a historic moment that resonated deeply with cricket enthusiasts across India, Virat Kohli shattered Sachin Tendulkar's long-standing record for the most ODI centuries during the intense India vs New Zealand ODI World Cup 2023 semifinal clash on Wednesday.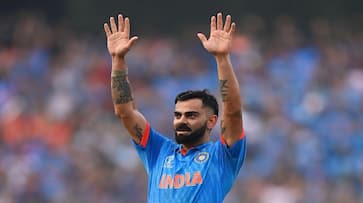 Cricket in India transcends mere sport; it is a religion, a passion, and an emotion that binds millions together. At the epicenter of this cricket fervor is Virat Kohli, whose journey from a young boy with dreams in Delhi to achieving this monumental feat has not only inspired a generation but has also forged an immense fan base. On Wednesday, during India's victorious ODI World Cup 2023 semifinal clash against New Zealand, Kohli smashed his 50th ODI century, surpassing the legendary Sachin Tendulkar at the iconic Wankhede stadium in Mumbai. The Indian batting icon celebrated the remarkable moment by bowing down to 'God' of cricket himself as fans cheered both Kohli and Tendulkar.
Also read: India vs Australia: IAF's Suryakiran team rehearses for air show ahead of WC final in Ahmedabad (WATCH)
Amongst Kohli's ardent admirers was Shiju Balanandan, who boldly prophesied back in 2012 that Kohli would one day surpass Tendulkar's record. Joy Bhattacharjya shared Balanandan's remarkable story on social media, recounting how he had made the prediction on Facebook and continued to update the post with unwavering conviction. Balanandan's foresight extended until Kohli's 35th century against South Africa on February 1, 2018. Tragically, Balanandan passed away around that time, but his friends took it upon themselves to carry on the updates in his memory.
The heartwarming narrative resonated deeply with online audiences, earning praise for Shiju Balanandan's extraordinary foresight and dedication.
"Beautiful," expressed one user, encapsulating the sentiment shared by many. Another user chimed in, saying, "Let me embark on a similar thread for @ShubmanGill now," highlighting the inspiration drawn from Balanandan's story.
Eagle-eyed readers noted a minor discrepancy in the timeline, pointing out that Balanandan initiated the effort in July 2012, not 2022 as initially mentioned by Bhattacharjya. In a swift response, Bhattacharjya corrected the error in a follow-up tweet, ensuring the accuracy of the details surrounding this remarkable prediction.
Also read: Wankhede's November 15 chronicles: Tendulkar's farewell in 2013, Kohli's 50th ODI century a decade later
Prior to achieving this remarkable milestone, Virat Kohli faced a three-year century drought, a period he finally broke in September 2022. The significance of his 50th century, achieved during the World Cup, was elevated as Kohli accomplished this feat on the exact date and venue where cricket legend Sachin Tendulkar played his last international innings.
Kohli's aggressive and dynamic style on the field has not only garnered admiration but has also endeared him to fans across the nation. In every powerful stroke of his bat, spectators don't just witness a cricketer but see a reflection of their own aspirations. Fans will hope that the Indian batting icon will score a big one in Sunday's high-stakes ODI World Cup 2023 final clash between India and Australia at the Narendra Modi Stadium in Ahmedabad.
Last Updated Nov 17, 2023, 6:39 PM IST