RCB's AB de Villiers: Won't join MS Dhoni-led CSK; it is 'great battle' playing against them
Royal Challengers Bangalore (RCB) bought AB de Villiers in the IPL 2011 players' auction for $1.1 million after playing for Delhi Daredevils from 2008 to 2010. Now, he wants to be a part of RCB for the rest of his life. He was asked whether he thought of playing for MS Dhoni-led Chennai Super Kings (CSK)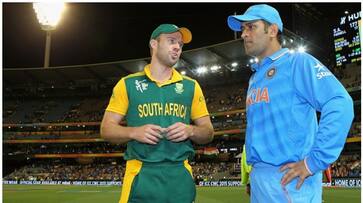 Bengaluru: Did former South African captain AB de Villiers ever think about playing under MS Dhoni at the IPL franchise Chennai Super Kings? Here is the superstar batsman answering the question.
De Villiers, who has been with Royal Challengers Bangalore (RCB) since 2011, was asked whether he thought about playing for CSK in the Indian Premier League (IPL).
Also read: AB de Villiers speaks on toughest Indian bowler he faced
This question was put to him by former Zimbabwe cricketer-turned-commentator Pommie Mbangwa on Sports Hurricane on Instagram.
De Villiers replied, "Because of the system in the IPL, I never had a choice. You don't know the side which you are going to play."
Also read: Virat Kohli is like Roger Federer, says AB de Villiers
He added, "I have played with Delhi (Daredevils). They released me after three years (2008 to 2010). Then, Bangalore (RCB) picked me up (in 2011). The entire first part of my IPL career was out of my hands. Obviously, playing for Bangalore for the first three-four years, going into your fifth year, I realised I would love to play here for the rest of my life.
"I really enjoy the franchise, I enjoy the vibe, the people, you create friendships, and you don't want to leave. Then I started feeling that I actually want to play for RCB. Unfortunately, that CSK thing, I don't think it is going to happen (laughs). It is good to play against them, always a great battle."
Last month, while interacting with RCB captain Virat Kohli on Instagram, De Villiers had said he doesn't want to leave the Bengaluru franchise. "Same for me. I never want to leave RCB but to do that I got to keep scoring runs. I am not the captain you see."
RCB bought De Villiers in the IPL 2011 players' auction for $1.1 million after he was released by Delhi Daredevils (DD).
Last Updated Oct 26, 2023, 7:02 PM IST