Over 11,000 security personnel to be deployed for India vs Pakistan WC match amid 'World Terror Cup' threat
Last month, an FIR was filed by the Gujarat police against chief of banned outfit Sikhs for Justice (SFJ), Gurpatwant Singh Pannu, for threatening to turn the Cricket World Cup 2023 into "World Terror Cup".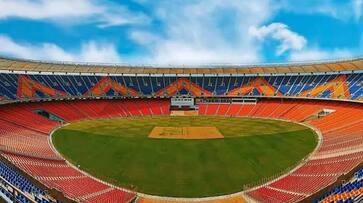 More than 11,000 personnel from various agencies, including Gujarat Police, NSG, RAF, and home guards, will be deployed in Ahmedabad and at Narendra Modi Stadium during the India-Pakistan ODI World Cup 2023 cricket match scheduled for October 14, as announced by a senior officer on Monday. These extensive security measures are in response to perceived threats by Khalistani terrorist Gurpatwant Singh Pannu. Last month, an FIR was filed by the Gujarat police against chief of banned outfit Sikhs for Justice (SFJ) for threatening to turn the Cricket World Cup 2023 into "World Terror Cup".
Ahmedabad has not experienced communal violence during cricket matches in the past two decades. However, as a precautionary measure, security forces will be stationed in several communally sensitive areas, according to Ahmedabad Commissioner of Police G S Malik.
Earlier in the day, Gujarat Chief Minister Bhupendra Patel convened a meeting with Minister of State for Home Harsh Sanghavi, state DGP Vikas Sahay, G S Malik, and other senior police officers in Gandhinagar to review the police's action plan for ensuring a peaceful conduct of the high-profile sports event.
At an evening press conference, Malik mentioned that the chief minister had overseen security preparations and instructed the police to take all necessary steps to prevent any untoward incidents during the match.
Elaborate security arrangements have been made considering factors such as the expected movement of over 1 lakh spectators at the stadium and recent threats received via an unidentified email.
"Along with more than 7,000 police personnel, we will deploy nearly 4,000 home guards to secure the stadium and to maintain law and order in communally sensitive areas of the city during the match. In addition to these personnel, we will deploy three 'hit teams' and one anti-drone team of the NSG. Nine teams of our bomb detection and disposal squad will also be utilised," Malik said.
Four senior IPS officers, including inspector generals and deputy inspector generals, along with 21 deputy commissioner of police (DCP) rank officers, will supervise and guide personnel on match day.
"Apart from 13 companies of the state reserve police (SRP), we will deploy three companies of Rapid Action Force as part of our security setup. The RAF will keep a watch on communally sensitive areas of the city. To help people in case of a stampede, we have already prepared an evacuation plan and rehearsals are also going on at the stadium," Malik said.
To address any chemical, biological, radiological, and nuclear (CBRN) emergencies during the match, teams from the State Disaster Response Force (SDRF) and the National Disaster Response Force (NDRF) will also be stationed in the city.
Reports indicate that Mumbai Police received an email from an unidentified sender threatening harm to the prime minister and the destruction of Narendra Modi Stadium in Ahmedabad. The sender also demanded Rs 500 crore and the release of notorious gangster Lawrence Bishnoi from jail.
Malik stated that such threats had been assessed by the city police and were found to have originated from a foreign location. He emphasized the need for an elaborate security arrangement given the large number of spectators expected at the match and the sensitivity of the event, reassuring that the city police are well-prepared to handle any situation.
Last Updated Oct 9, 2023, 9:39 PM IST