ODI World Cup 2023: Towering at 6'9", net bowler Nishanth Saranu stands out in Pakistan's training session
The article discusses the emergence of six-foot-nine-inch Hyderabad U-19 pacer Nishanth Saranu and his experience as a net bowler for the Pakistan cricket team in preparation for the ODI World Cup 2023, including his aspirations in cricket.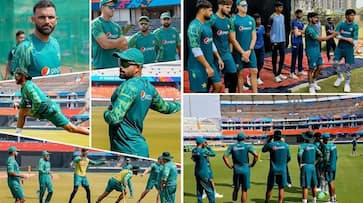 Nishanth Saranu, a towering six-foot-nine-inch Hyderabad U-19 pacer, garnered significant attention during Pakistan's opening net session as they prepared for the upcoming ODI World Cup 2023. Nishanth, currently in his second year of U-19 cricket, was among the net bowlers available to Pakistan's team, who had arrived on Wednesday in the city for training ahead of the tournament.
Pakistan is scheduled to play a World Cup warm-up match against New Zealand in Hyderabad on Friday. After experienced bowlers like Haris Rauf and Shaheen Afridi had finished their spells, Pakistan's support staff, including bowling coach Morne Morkel, selected Nishanth from a group of eager net bowlers.
Given that Pakistani bowlers, such as Rauf and Shaheen, typically bowl in the range of 140-150 kmph, the young Hyderabad pacer was encouraged to increase his pace significantly. This feedback was extended to all the pacers in the net session.
Nishanth primarily bowled to the tail-enders, except for opener Fakhar Zaman, who believed that the young cricketer could excel if he combined his natural bounce, courtesy of his tall frame, with increased pace.
Currently capable of bowling at speeds between 125-130 kmph, Nishanth shared Morne Morkel's advice, stating that the coach had encouraged him to boost his pace. "I currently can bowl up to 125-130 kmph. Morne (Morkel) sir asked me to increase my pace. He also inquired if I would be available to bowl at the nets of IPL franchise Lucknow Super Giants," Nishanth, who idolises the Australian pace duo of Mitchell Starc and Pat Cummins, told PTI.
Notably, Nishanth has previous experience bowling to international batters. Before the India-New Zealand ODI match in Hyderabad, he was called upon and even posted a picture with batsman Glenn Phillips.
With Pakistan staying in the city for nearly two weeks, Nishanth anticipates gaining more opportunities to bowl and hopes for a promising future in both white-ball and red-ball cricket. "My aim is to have a career in both white and red ball cricket. So, the immediate goal is to represent Hyderabad at the first-class level," he added.
Last Updated Sep 28, 2023, 5:19 PM IST