ODI World Cup 2023: Australia's Pat Cummins wary of Indian spin challenge ahead of opener
Australian cricket captain Pat Cummins discusses the challenges of facing Indian spinners and strategies for their ODI World Cup 2023 opener on a turning Chepauk pitch.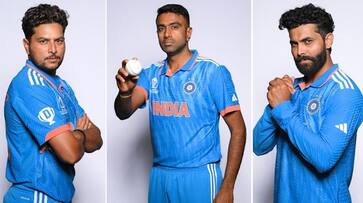 In the lead-up to their ODI World Cup 2023 opener against India on Sunday, Australian captain Pat Cummins acknowledged that handling the Indian spinners on a Chepauk pitch known for offering significant turn and grip would be their biggest challenge. 
India is likely to field three spinners in Kuldeep Yadav, Ravindra Jadeja, and Ravichandran Ashwin against the Australian team. Cummins commented on the formidable Indian bowling lineup, particularly in home conditions, emphasizing the impending challenge.
"They're a good bowling line-up, especially in home conditions. So, they're going to be challenging," Cummins said in the pre-match press conference in Chennai on Saturday.
Cummins expressed optimism, citing the Australian team's past experiences facing Indian spinners."The good thing is that we've played them a lot. So, our batters will have their own plans. We've had success against them a few times. They've bowled well against us a few times as well," said Cummins.
The Australian captain also drew confidence from the IPL experience of some of the Australian players, who are familiar with conditions at the MA Chidambaram Stadium in Chennai.
"It's a ground (MA Chidambaram) we've played quite often. It feels like whenever we tour India, there seems to be a game here. A few of the guys have played for CSK as well, or you know, a fair bit here for IPL. So, it may serve us well," said Cummins.
Cummins mentioned David Warner's unconventional tactic of batting right-handed against Ashwin in a previous match and hinted at the possibility of more creative strategies to counter the spin.
"Yeah, Davey, we'll see if he bats right-handed or left-handed. Yeah, he's probably better left-handed, I reckon, but we'll see how he goes," said the Australian skipper.
Australia's spin options primarily consist of leg-spinner Adam Zampa and part-time off-spinner Glenn Maxwell. Cummins highlighted Maxwell's ability to contribute with both bat and ball and expressed hope for a strong performance from him in the tournament.
"We've seen Max, he's a front-line spin bowler. In the 2015 World Cup, he was the sole spinner in basically every single match. I thought he bowed really well in that third ODI against India. So, yeah, we've got 20 overs of spin out there if we need it. He's got an amazing knack of if he misses out with the bat, he contributes with the ball and vice-versa. No doubt, expecting a big tournament from Maxi," Cummins added.
Regarding India's status as favorites in home conditions, Cummins acknowledged the challenge but stressed the importance of a good start to a lengthy tournament. He recognized India as strong contenders but looked forward to an exciting match.
"In the home conditions you'd imagine, they're probably tournament favourites. So yeah, if we win tomorrow that's awesome, if not, well, we know where we stand and maybe we need to change a few things. It should be a cracker," said Cummins.
Last Updated Oct 7, 2023, 3:39 PM IST