ODI World Cup 2023: Afghanistan coach Trott sets new target for team after win over Sri Lanka
Jonathan Trott urges Afghanistan's cricket team to target scoring centuries after their impressive ODI World Cup 2023 wins and aims for continued success in the remaining matches.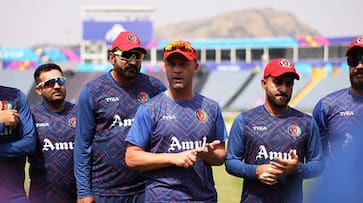 Afghanistan's performance in the ongoing ODI World Cup 2023 has captivated many, with their collective and composed batting drawing admiration from fans and critics alike. Head coach Jonathan Trott has set a new target for the team: achieving a century in the upcoming three games. Despite their commendable wins over prominent teams like England, Pakistan, and Sri Lanka, Afghanistan is determined to shed the 'minnows' tag and make a mark in the tournament.
Addressing the press after Afghanistan's comprehensive 7-wicket victory over Sri Lanka on Monday, Trott emphasized the need for a player to take on the responsibility of batting for a longer duration and achieving a hundred. While players like Rahmanullah Gurbaz, Ibrahim Zadran, and Rahmat Shah have come close, they are yet to reach the elusive three-figure mark in the tournament.
Also read: 'Fight for every ball': Rashid Khan's inspiring speech that fired Afghanistan to WC win over SL (WATCH)
"Nobody has got a hundred so far yet, so that's the next challenge. Someone accepts responsibility and batting for a longer period of time and make sure we get a hundred," said Trott.
While players like Rahmanullah Gurbaz, Ibrahim Zadran, and Rahmat Shah have come close, they are yet to reach the elusive three-figure mark in the tournament. 
"You see, a lot of hundreds are scored in the tournament. That's the next frontier, the next barrier. Gurbaz has scored a few hundreds recently, you know Ibrahim has. The middle order is in form, 3-4-5-6, as well. That's the next challenge and I have got no doubt that the players will be able to (get hundred) in the future. Hopefully, it starts with the next game," Trott added.
Initially known for their potent bowling attack, Afghanistan has shown maturity in their batting, securing consecutive victories by successfully chasing totals. Trott credited the team's hard work in batting, emphasizing the importance of fundamental training and the acceptance of responsibility by the players. He noted a growing confidence among the team members in their own abilities.
"I think we've been working really hard at our batting and doing the basics. I know it's very cliche, but the way that we train, the way we think about our cricket, certainly with batting, the way that we accept responsibility at times as well, I think you're starting to see hopefully not the penny drop, but we're starting to see also the confidence in the players, in their own ability," Trott said.
Also read: ODI World Cup 2023: Chase against Pakistan spurred our belief, says Afghanistan captain after win over SL
Following their win against Sri Lanka, Afghanistan has climbed to the fifth position in the tournament standings. With upcoming matches against Netherlands, Australia, and South Africa, Trott acknowledges the strides the team has made but also highlights the room for improvement in batting, bowling, and fielding. Despite their recent victory against a strong Sri Lankan side, Trott remains focused on the three games ahead.
"I think the players and I hope that they realise the strides they've made in these matches but also there's still extra room to be done with bat, ball, and in the field. So, there's still three games to go. But we'll certainly enjoy tonight's victory against a very good Sri Lankan side, who recently won the T20 Asia Cup (2022). They were in the final of the ODI Asia Cup (in September). So really happy," Trott said.
Last Updated Oct 31, 2023, 1:58 PM IST