Narendra Modi Stadium turns into a sea of blue as fans get ready for the final showdown
The city of Ahmedabad is ablaze with cricket fever as an enormous 'Sea of Blue' converges at the Narendra Modi Stadium for the highly anticipated Cricket World Cup final between India and Australia.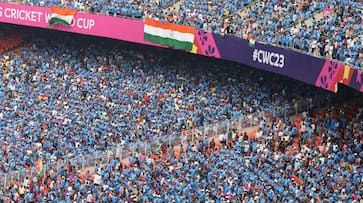 Ahmedabad has transformed into the epicenter of cricketing excitment, with the entire city seemingly moving as one in anticipation of the monumental clash. The excitement peaked a full 24 hours before the highly anticipated World Cup final, and now, with a mere three and a half hours until kick-off, a massive wave of blue-clad fans is converging towards Motera. The city resonates with energy and a touch of frenzy as fans, donning India jerseys and carrying the national flag, make their way to the Narendra Modi Stadium.
All demographics, from families to friends, children to senior citizens, have painted the city in shades of blue. The roads leading to Motera are brimming with enthusiasm, and the traffic comes to a standstill near the stadium, where only vehicles with VIP car park stickers can inch forward. Stringent security measures, including holograms on accreditation cards, are in place, given the presence of Prime Minister Narendra Modi and Australian Deputy PM Richard Marles.
With expectations soaring to unprecedented levels for Rohit Sharma's team, the 132,000-capacity stadium is poised to reach maximum occupancy. Counterfeit India jerseys flood the streets leading to the stadium, with sellers offering alternatives for cricket enthusiasts.
For eight-year-old Hetwik, a dedicated Hardik Pandya fan, disappointment sets in as only jerseys of Virat, Rohit, Maxwell, and Warner are available. The bustling counterfeit industry has become a lifeline for sellers like Sheetal Ben, who has managed to earn significantly during marquee matches.
Despite the surge in black market ticket prices (Rs 3500 tickets being sold at a 30-times premium) and exorbitant rates for hospitality tickets, fans from various parts of India and NRIs from the UK, USA, Australia, Canada, and Singapore have flocked to Ahmedabad for a cricket vacation. Twenty charter flights carrying dignitaries, politicians, businessmen, and Bollywood personalities are expected to land in Ahmedabad for the game.
Beyond the on-field action, for the elite, being present at this cricketing spectacle is about more than just the game; it's an opportunity to witness a historic moment. The who's who have booked rooms at the team hotel, with festivities expected to extend into the early morning hours if India secures victory.
As the excitement continues to build, fans are making various arrangements to witness the spectacle, even opting to stay overnight at the Ahmedabad railway station due to soaring hotel prices. The spirit of celebration has already begun, and if India emerges victorious, the revelry is anticipated to last throughout the night.
Also Read: Pitch Politics: Ian Chappell calls for autonomy ahead of World Cup Final in Ahmedabad
Last Updated Nov 19, 2023, 1:10 PM IST