IPL 2023: Is below-par bowling line-up the reason for MI's downfall? Head coach Mark Boucher critiques
IPL 2023: Mumbai Indians failed to enter the Final after succumbing to a 62-rn failure to Gujarat Titans in Qualifier 2 in Ahmedabad on Friday. Meanwhile, the former's head coach Mark Boucher feels that the lack of replacement front-line bowlers could have been a reason.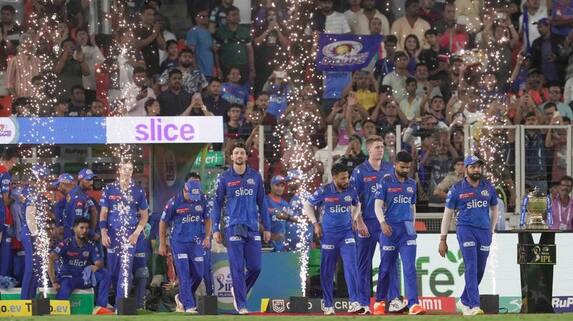 Head coach Mark Boucher says five-time record former champion Mumbai Indians (MI) will look for a replacement of front-line bowlers if they are not fit within time, as MI managed to reach playoffs despite missing first-team bowlers Jasprit Bumrah, Jofra Archer and Jhye Richardson in the 2023 Indian Premier League (IPL).
In a season wherein MI became the first team to concede four totals above 200 on the trot, the batting unit carried them until the Eliminator clash, wherein they suffered a massive loss at the hands of defending champion Gujarat Titans (GT) in Ahmedabad on Friday. MI not only had to cope with the absence of Bumrah for the entire season due to a stress fracture in his lower back followed by surgery in New Zealand, but Australia's pacer Richardson also failed to make it to India, being ruled out by a hamstring injury.
CATCH ALL IPL 2023 UPDATES HERE
With an eye on the 2023 season, Archer was picked up by MI in the IPL 2022 auction, despite knowing the bowler was out for more than a year due to an elbow injury. In May 2022, Archer was diagnosed with a lower back stress fracture which ruled him out of the English summer.
While Archer did turn up for MI Cape Town in the inaugural SA20 and eventually for England, he looked far from being fully fit in the IPL. Having missed the first home game at Wankhede against arch-rival four-time former winner Chennai Super Kings (CSK), Archer, struggling for rhythm and form, got just two wickets in five games this IPL.
ALSO READ: IPL 2023 Final, CSK vs GT: 'Old Man' versus a 'Pretender' - Gill gets ready to spoil Dhoni's farewell party
In between, Archer also travelled to Belgium for minor surgery and returned to action, but only to be ruled out again. A recurrence of the elbow trouble led to his exit not only from this IPL but also from the all-important Ashes against Australia, and it remains to be seen if Archer would be fit in time to make it to England's squad for its ICC World Cup title defence later this year in India.
Boucher said an assessment of the situation and stock would be made at a later stage, as he did not want to "open a can of worms' at this stage". "There are so many things that we can talk about, but for me, to open up a can of worms now, would be stupid," Boucher told the media here when asked about his assessment of MI's season with the ball.
ALSO READ: IPL 2023 - Here's how cricketing legends hailed Shubman Gill's 3rd tournament century
"I think it's time to just sit back, reflect a bit, take the emotion out of it and make some good, sound cricketing decisions once everything is calmed down and once we understand the future of certain individuals and where they are from a fitness perspective. You lose two of your stars in the bowling line-up, it's going to create a couple of holes, and we tried to fix it up as best as possible. Hopefully, the guys can get over the injuries. If they can't, then, we've got to look at other places," he said.
Boucher said it was difficult for MI without both Bumrah and Archer. "You can look at Bumrah not being available, Jofra not being available. They are quality players. If you are losing out on your quality players, yes, it's going to leave a hole. Not to put any blame on anyone, those things happen in sports, injuries happen in sports, and you've got to deal with it," he concluded.
Last Updated May 27, 2023, 8:24 PM IST