IPL 2020: MS Dhoni heaped praised by former CSK Trainer Ramji Srinivasan
Ramji Srinivasan praises Dhoni and says that his reflexes are as fast as that of a racing car driver. Also, experts believe that Dhoni must up his batting position to ensure CSK's winning streak again.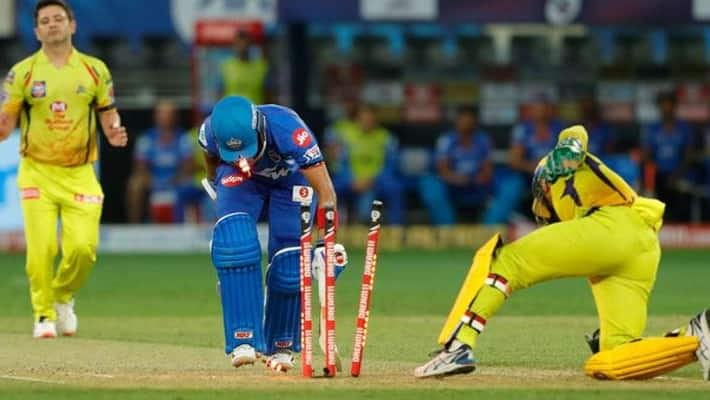 Ramji Srinivasan has had a close watch on Dhoni, as the former had worked with Chennai Super Kings (CSK) and the Indian team as a trainer. He had ample praise for Dhoni and appreciated his extraordinary reflexes. 
The 39-year-old gives reasons to believe that age is just a number. His phenomenal catch behind the stumps to depart Shreyas Iyer or stumping Prithvi Shaw proved that he has still maintained optimum fitness levels.
"Did you see him stumping Prithvi Shaw? That is what comes with reflex. He has a reflex of .32 seconds which is top quality. Some of the racing drivers around the world have the same timing if you calculate. The range for top athletes is .30 sec to .45 sec. The lesser the better. The elite racers will be below the .30 sec mark," Ramji Srinivasan said.
On being asked about the ways to improve reflexes, he said, "You have exercises which help you improve your reflexes. Just like you work on your fitness, you can also work on your reflexes. There are specific exercises that help you do that and knowing MS, he will do that the moment he sees the need to improve further."
He also emphasized that "After all, cricket is more about reflex and hand-eye coordination than physicality. There are four modes — proactive, reactive, reflex, and multi-tasking and peripheral awareness."
Besides, there have been discussions pertaining to CSK's degraded performance. Veterans like Bret Lee feel that Dhoni should decide a specific batting position for himself. 
"They have to start winning, they've got the right team but don't think they've got the right position (for the players). I think the talk on Dhoni's batting position is putting a lot of pressure on the entire team. He has to fix his batting position," Lee added in the post-match show on Star Sports.
In the post-match presentation against Rajasthan Royals (RR), Dhoni even reiterated how he had to delve in extra practice to get things in line after such relaxations in the lockdown. 
Last Updated Sep 28, 2020, 7:15 PM IST