T20 World Cup 2021: Watch Virat Kohli's astonishing reaction on being asked to drop Rohit Sharma from T20Is
India is off to a tough start in the 2021 ICC T20 World Cup, losing its opening Super 12 tie to Pakistan. Meanwhile, Virat Kohli was asked if he would drop Rohit Sharma, and here's how he reacted.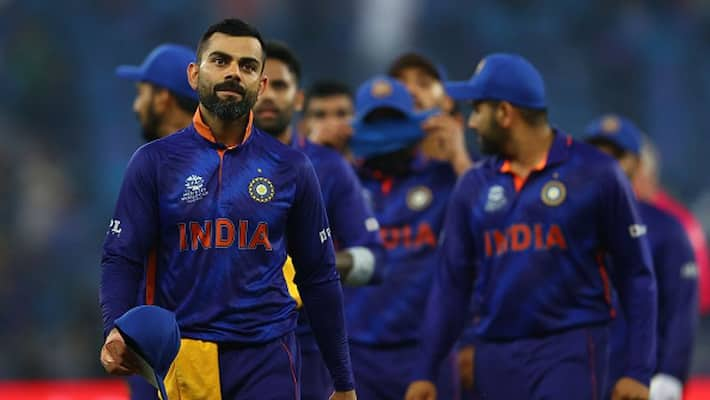 Former champion India did not have the best start to its Super 12 campaign of the ICC T20 World Cup. On Sunday, it suffered a heavy ten-wicket defeat to arch-rival and fellow former champion Pakistan at the Dubai International Stadium. With this, Pakistan has registered its first-ever win over India in the tournament and any World Cup.
FULL SCORECARD: ICC T20 World Cup 2021 - INDIA vs PAKISTAN
Following the game, Indian skipper Virat Kohli lauded Pakistan's effort, stating that it did not allow the Indians to be in the game at any stage. Meanwhile, during the press conference, one of the journalists asked him if he would drop senior opener Rohit Sharma for Ishan Kishan.
"
ALSO READ: T20 World Cup 2021, India vs Pakistan - Records galore as Pakistan scripts historic win
The journalist seemingly asked the question as Rohit was dismissed for an unfortunate duck by pacer Shaheen Afridi. In the meantime, Kohli was visibly surprised at his question, as he said, "Will you drop Rohit Sharma from the T20 Internationals? Unbelievable [laughs]. Sir, if you want controversy, please tell me before, so I can answer accordingly."
ALSO WATCH: T20 World Cup 2021, IND vs PAK: Kohli congratulates Azam, Rizwan; Dhoni interacts with Pakistanis
Speaking on the defeat, Kohli reckoned, "They definitely outplayed us. There's no doubt about that. You don't win by ten wickets if you don't outplay the opposition. We didn't even get any chances - they were very professional, and you definitely have to give them credit. We tried our best, and we tried to create enough pressure on them, but they had the answers. There is no shame in accepting that a team played better than you."
ALSO READ: T20 World Cup 2021, IND vs PAK: Twitter reacts as Pakistan registers first tournament win over India
"
On being asked that if losing the toss and bowling later with the dew made things difficult, he said, "I wouldn't say that it became very, very difficult, but if the pitch becomes a little better to bat on, you get off to a start, you start feeling more confident about the chase, and that's what happened. The more dew came in towards the second half of the Pakistan innings, ten overs onwards, and they were able to rotate strike. We weren't even able to get dot balls in because the pitch was obviously providing a bit more pace for the batsmen to work with. The slower balls were not holding up as much."
ALSO SEE: T20 World Cup 2021, India vs Pakistan - Was KL Rahul dismissed off a no-ball? Twitter reacts
Kohli also pondered if the long bubble life impacted the players with burnout, especially coming off a rigid Indian Premier League (IPL) outing. "I think it [a break] works really well for us from all points of view, knowing that we've played a full-fledged season already. We've played the IPL, which is very high-octane by itself in testing conditions here in the UAE, and then, we come into the World Cup. So, for us, these big breaks are definitely something that will help us as a team to be in the prime physical condition that we need to play this high-intensity tournament," he concluded.
Last Updated Oct 25, 2021, 2:54 PM IST