Handwara encounter: Virat Kohli pays tribute to martyred security personnel
'Those who don't forget their duty in any circumstances are true heroes. Their sacrifices must not be forgotten,' said Virat Kohli paying tributes to Handwara encounter martyrs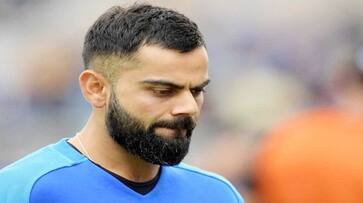 Bengaluru: Indian cricket team captain Virat Kohli paid tributes to the Army personnel who were martyred in an encounter with terrorists in Jammu and Kashmir on Sunday (May 3).
In an encounter with terrorists in north Kashmir's Handwara area of Kupwara district. In the 12-hour anti-terrorist operation that began on Saturday night (May 3) an Army Colonel, a Major, two soldiers and a Jammu and Kashmir's police sub-inspector were killed. Two terrorists were eliminated.
Also read: Virat Kohli talks about migrant workers
Colonel Ashutosh Sharma, Major Anuj Sood, Naik Rajesh Kumar, Lance Naik Dinesh and police officer Shakeel Ahmad Qazi were martyred.
On its Twitter account Jammu and Kashmir Police paid heartfelt tribute to the martyrs. It wrote, "J&K Police pays heartfelt tribute to martyrs Col Ashutosh Sharma,CO 21 RR,Major Anuj,Sub Insp.Sageer Ahmad Qazi,L.Naik Dinesh,Naik Rajesh for supreme sacrifices in line of duty in encounter with terrorists at Chanjmulla, Handwara.Nation will remember you heroes for times to come (sic)."
Also read: Kohli, AB de Villiers pick India-South Africa XI
"One of the slain terrorists is identified as Haider,a Pak National working in Lashkar e Toiba in Kashmir for the past couple of years , and the identity of the other terrorist is being ascertained," Jammu and Kashmir Police added.
Kohli too took to his Twitter account to pay his tributes. He said "I bow my head to the Army personnel and the policemen". He also added that their sacrifices must not be forgotten.
"Those who don't forget their duty in any circumstances are true heroes. Their sacrifices must not be forgotten. I bow my head to the army personnel & the policemen who lost their lives at Handwara and sincerely send my condolences to their families and wish them peace Jai Hind (sic)," the Indian skipper said.
Last Updated May 4, 2020, 10:32 AM IST