Exclusive: When Rahul Dravid saw cricket balls delivered at 220 kmph in Hyderabad
How will it be facing a cricket ball at the speed of 220 kmph? This was seen by batting legend Rahul Dravid. However, he did not face such deliveries, in the nets or in matches during his illustrious career but saw cricket balls coming at a speed of 220 kmph. This happened in 2008 in Hyderabad. Here is an exclusive incident shared with Asianet Newsable by the man who made it possible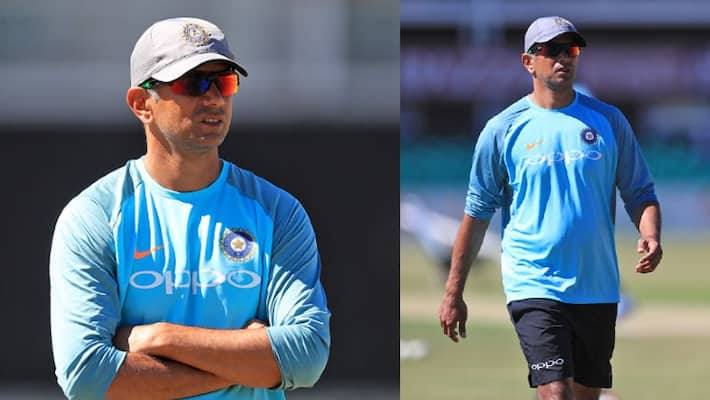 Bengaluru: The fastest ball ever bowled in international cricket is 161.3 kilometres (100.2 miles) per hour. The record belongs to former Pakistan fast bowler Shoaib Akhtar, who set the mark in the 2003 World Cup against England. But, can you imagine facing a cricket ball at the speed of 220 kmph?
Yes, it did happen in Hyderabad in 2008. It was not during any cricket match but while demonstrating a bowling machine, a new addition to India at the time. Batting legend Rahul Dravid was keen to watch a ball coming out of that newly-invented bowling machine in the south Indian city.
Also read: High demand for Hyderabad's bowling machines during lockdown
Thanks to Partha Pemmaraju, the founder and Managing Director of Leverage Science and Technologies Limited, Dravid got to see the bowling machine. This not only stunned Dravid, VVS Laxman but also several youngsters and coaches 12 years ago.
Also read: Exclusive - From sleeping in graveyard to Team India, Raghu's incredible story
Recalling that moment, Partha revealed to Asianet Newsable in an exclusive chat, "I started as a hobby to make a bowling machine. It was in 2007, and I developed India's first bowling machine. When the product was ready, I had my own doubts, whether it would be good or not. But, thanks to Rahul Dravid, those were cleared."
Also read: Daryl Harper on Sachin Tendulkar LBW in 1999
Partha reflected on how Dravid called it the "best" bowling machine he had faced at the time.
"It was in 2008. Rahul Dravid had come to inaugurate a cricket academy in Hyderabad. The academy's owner had seen our bowling machine. He wanted us to show it to Dravid. Then, on his invitation, we went there. Our bowling machine could bowl at a maximum speed of 220 kmph. That speed was unimaginable, because the maximum we had seen (on a cricket field) was 160 kmph. Dravid was keen to see a ball at that high speed. When he saw the bowling machine for the first time, he asked me, 'I want to see how it will deliver a 220 kmph ball?' Then we demonstrated to him. However, he did not face any ball at 220 kmph," Partha said.
"After watching the bowling machine for nearly two hours, Rahul Dravid said, 'this is the best cricket bowling machine I have ever practised with.' These words, coming from one of the best batsmen, gave us confidence. After this, we worked hard to market the product and now I can proudly say that we manufacture the best bowling machines in the world," he added.
Though the bowling machine was produced to deliver cricket balls at 220 kmph, later, Partha and his team reduced the maximum speed to 170 kmph.
"We started off with 220 kmph but later reduced the speed to 170 kmph because we felt it wasn't necessary. Also, one needs to know how to operate the bowling machine. We didn't want anyone getting injured by facing a 220 kmph ball," Partha justified.
After Laxman, Dravid, Sachin Tendulkar and other top cricketers backed the Leverage's cricket bowling machine, the product got the Board of Control for Cricket in India's (BCCI) approval. In 2009, 'Made in India' bowling machines arrived at the National Cricket Academy (NCA) in Bengaluru.
Since the time Dravid gave his 'best' nod, Hyderabad's bowling machines have reached many places, not only in India, but around the world.
Last Updated Jul 20, 2020, 1:58 PM IST