Exclusive: Daryl Harper opens up on Sachin 'Tenducker' LBW, MS Dhoni criticism, Bollywood and more (Part 1)
In this first part of an exclusive interview with Asianet Newsable, former international umpire Daryl Harper speaks on Sachin Tendulkar's LBW in 1999, MS Dhoni criticising him in 2011, Bollywood, Indian connection and more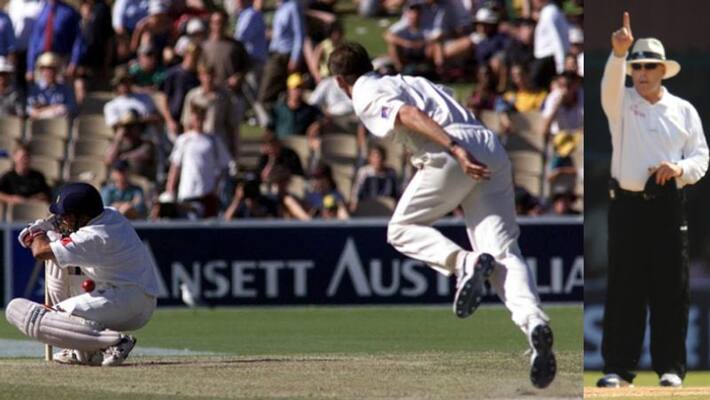 Bengaluru: It has been more than two decades since that 'infamous' LBW against Sachin Tendulkar in Adelaide. But, Indian cricket fans still remember the umpire who adjudged the batting legend 'shoulder before the wicket' against Australian great Glenn McGrath.
At the time, Daryl Harper became the most hated man in India. He was the umpire who raised the finger to send back captain Tendulkar for a duck at the Adelaide Oval in 1999.
Also read: Exclusive - From sleeping in graveyard to Team India, Raghu's incredible story
Even now, more than 20 years after that verdict, Harper admits that he remembers it every day of his life and calls it 'Tenducker'. And, he feels he made the right decision.
Also read: Daryl Harper on 'monumental error' in World Cup 2019 final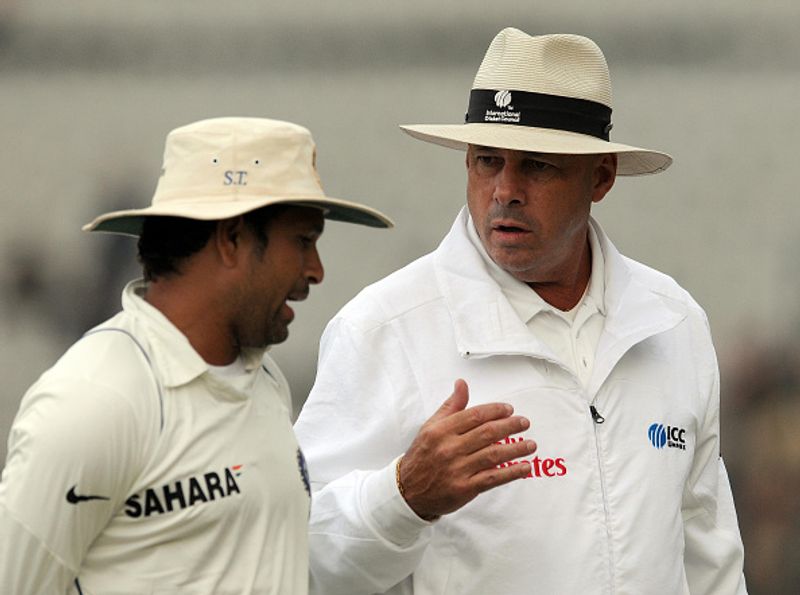 In this freewheeling two-part exclusive interview with Asianet Newsable, the 68-year-old Harper not only recalled that game but also the Test when skipper MS Dhoni criticised his decisions and that India-West Indies encounter in 2011 turned out to be his last international assignment. In the same match, Virat Kohli made his Test debut.
Apart from those two matches, Harper, who is now a match referee in Australian domestic circuit, opened up on his love for India, Bollywood, standing in India-Pakistan clashes, learning Hindi, a message for Indian fans, and more.
Between the 'controversies' in Adelaide and Jamaica 12 years apart, Harper enjoyed a fine 17-year international umpiring career, officiating 94 Tests, 174 ODIs and 10 T20Is.
Also read: AV Jayaprakash backs Sachin Tendulkar on 'Umpire's Call'
Excerpts from Part 1 of the exclusive interview
Question: Your memories of umpiring in India and the moments you enjoyed with players/fans? Also, your movie experience here
Daryl Harper: I recall early in my career, telling my wife that I couldn't call myself a real umpire until I officiated in India and survived to talk about it. I later met so many wonderful people in many Indian cities that I felt comfortable enough to wander the streets surrounding the hotels where we were accommodated. I was joined by my wife and our daughter on different tours and I proudly introduced them both to Indian customs and foods. I am still in contact with Indian friends around the world and in India.
I did make my Bollywood debut in the cricket movie Victory. I was cast in a familiar role…as a cricket umpire! Unfortunately it was a non-speaking role so I wasn't able to deliver any wise words in Hindi! I debut late in the movie when the star local batsman takes on and overpowers Brett Lee bowling from The Pavilion End of the Sawai Mansingh Stadium in The Pink City (Jaipur). At this moment, I don't have any further Bollywood appearances planned.
Also read: Part 2 of Daryl Harper's interview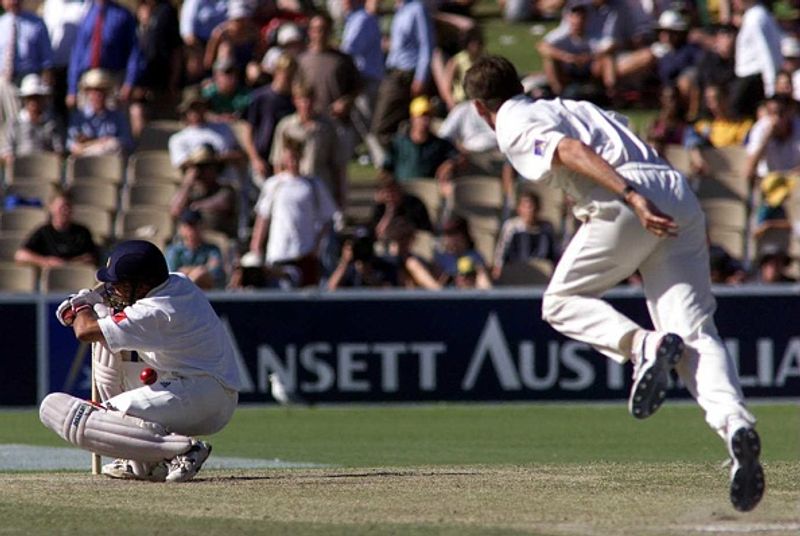 Q: How do you look back at the 'infamous' LBW decision of Sachin Tendulkar in 1999 at the Adelaide Oval? Do you regret it? 
Harper: I look back on that 'Tenducker' decision every day of my life.
It's not that I sleep badly or have nightmares and replays dancing through my brain. When I walk through my garage I am confronted by a huge canvas print of Sachin and Glenn McGrath, taken momentarily after the ball made contact. You may be disappointed to know that I'm still extremely proud of that decision because I considered the action before me and applied the Law without fear or favour. That's what umpires are trained and expected to do. Regarding the accuracy of the decision, Sachin was the Indian captain at that time and ICC officials informed me that he didn't note that decision when he assessed my performance on the standard post-match paperwork.
I recall realising that suddenly one sixth of the world's population knew my name…and they probably didn't speak very highly of me.
In December 2018, I met Indian selector MSK Prasad during a lunch at Adelaide Oval during the Australia-India Test match. We probably hadn't seen each other since that Test 20 years earlier at the same beautiful ground. MSK was the Indian wicketkeeper, playing in his fourth Test when he took six catches in the match. I was umpiring with Kiwi Steve Dunne, officiating in my sixth Test. Seven weeks earlier I had umpired my first Test involving India when they played New Zealand in Kanpur and MSK Prasad was behind the stumps in Uttar Pradesh.
We embraced each other as we did in pre-COVID-19 days with a generous and respectful hug. MSK was the first to speak.
"Sachin said he was out…Sachin said he was out," the Indian selector exclaimed excitedly.
"Well I thought he was too," I confirmed.
It was a very unusual dismissal. I've never seen anything similar and I've watched a lot of cricket over the years…but I still believe it was correct. I accept that viewers the world over were surprised and even shocked. I was also apparently rattled by the scenario. I say 'apparently' because years later I discovered in doing research that Glenn McGrath dismissed Sachin Tendulkar with the middle ball of a five-ball over. I didn't err in counting very often so I can only conclude that the gravity of the moment disrupted my concentration and routines. It was a bizarre moment.
I went on to umpire India in 26 Tests and 44 ODIs all over the world. I can't recall ever discussing that specific decision with the great man, but I believed Sachin and I were always on good terms. My decision followed an appeal. That's how cricket works. Players and umpire moved on. That's what I consider as the true Spirit of cricket. That's why I almost always enjoyed umpiring India and especially in India.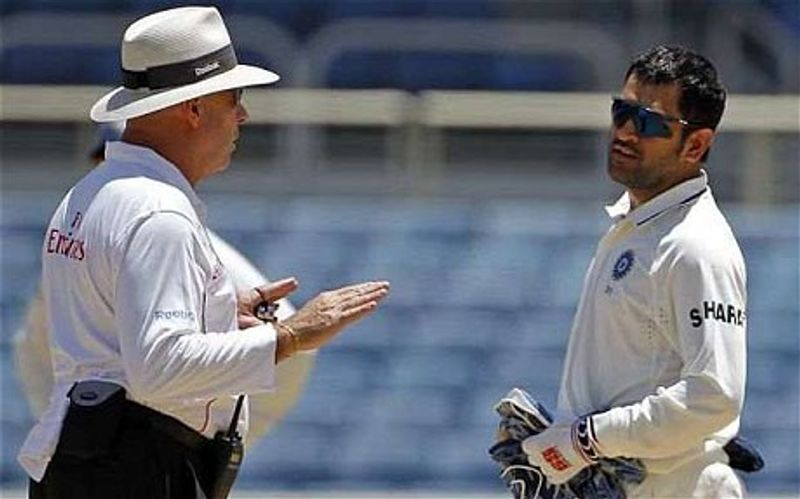 Q: What do you have to say now about MS Dhoni's comments about your decisions in that 2011 Test in Kingston, which turned out to be your final match?
Harper: Dhoni was right.
It did turn out to be my final Test, but my contract was due to expire two weeks later after the third Test in Dominica so the end was close, regardless of any comments by MS Dhoni or anyone else. I accepted that I had made two incorrect decisions during the match and some other moments could not be determined with the available technology. I didn't have a clean sheet and that always disappointed me when it happened, but my decision-making statistics in Tests with India were second to none at the time.
MS was always a tough competitor on the field and I admired him for his leadership and cricketing abilities that bordered on being super-human. Maybe he was letting off steam and hadn't appreciated me removing Test debutant Praveen Kumar from the attack for repeatedly running down the middle of the pitch into the protected area. I recall MS suggesting I should have been more lenient to the newcomer, but Praveen had already played in 52 ODIs before his first Test so he knew the Laws. I have a very good memory and recall MS responding to me when I informed him that the bowler was banned for the rest of the innings.
"We've had trouble with you before, Harper," were his exact words.
I laughed aloud heartily as I wandered away to square-leg which probably wasn't a respectful response on my behalf.
Maybe MS knew that Praveen Kumar was only the second Indian bowler to be banned in a Test match for repeatedly running into the protected area. Maybe MS knew that the first Indian bowler to be banned had been Ashish Nehra in a Test in Bulawayo in 2000. Maybe MS knew the name of the umpire who had taken that rare action…
After the Test was won by India, MS was reported to have said to the media assembled that the players would have been back in their hotel rooms earlier if the umpires had made the correct decisions. It's true…but they would have been back earlier if the Indian fieldsmen had taken their catches as well. Sometimes I wished I could have attended those post-match press conferences on a regular basis in order to set the record straight.
Q: Was India the toughest team and the difficult country to umpire considering the amount of fan following for the sport and its stars?
Harper: The obvious answer is yes. The sheer number of Indian people around the globe following the game is enormous. Indians have been great travellers throughout history and wherever I travelled I encountered fanatical Indian supporters. One day in Manhattan, New York in July 2011, on my way home from my final Test in Jamaica, while wearing plain clothes, I was stopped in the street thrice by complete strangers who recognised me and asked cricket questions. All three were Indians. All three were extremely polite and respectful.
In Cape Town at the close of the fourth day of a Test with South Africa, I was asked to attend the media gathering to explain an unusual incident from earlier in the day when Sachin Tendulkar had been ineligible to bat when Wasim Jaffar was the second Indian wicket of the second innings. I obliged, expecting to find a gathering of possibly 10 journalists. When I took my seat and turned to answer the first question, I was shocked to find approximately 50 media representatives eagerly awaiting my answer. I reminded myself that India was on tour. The press contingent was a big audience to feed on every Indian tour.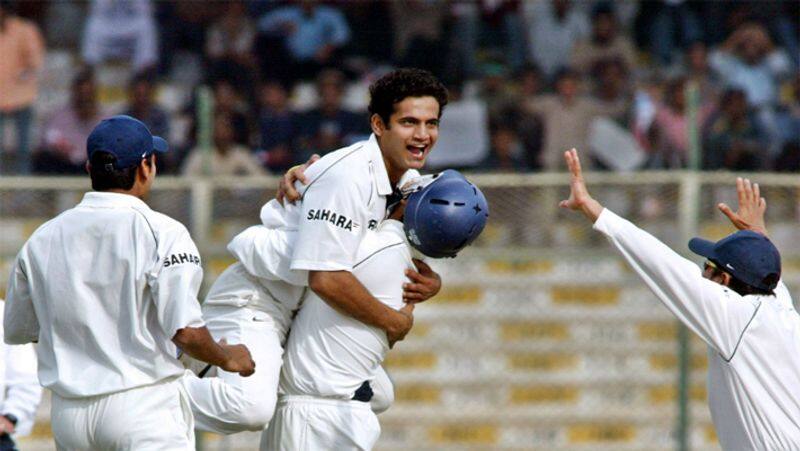 Q: How was your experience in India-Pakistan matches? And, that game in Karachi in 2006 when Irfan Pathan took a hat-trick in the very first over of the Test?
Harper: I considered India versus Pakistan matches as the best appointments I could ever get. Two of the most highly skilled cricket teams of the era always competed so fiercely for their nations. I was rewarded with four contests between the cricketing giants, with three ODIs and one memorable Test match. India won the tosses in Brisbane, Hobart and in Karachi for the Test while Moin (Khan) called correctly for Pakistan in Sharjah. As keenly as the matches were contested, the results all fell one way…4-0…a whitewash.
The first ODI at the Gabba in January 2000 was a surprise match for me.  I had umpired the previous day when Pakistan defeated Australia by 45 runs. I was assisting my wife on a shopping expedition in Brisbane, along with our two teenage children when India batted first against Pakistan and totalled 195 from 48.4 overs. Imagine my surprise when I received a brief phone call from Australian Cricket Board Umpires Manager, Tony Crafter telling me to get myself to the Gabba ASAP. Big lovable Steve Davis had strained a calf, not the bovine variety but a very large left calf muscle of his own. Very late medical advice scratched him from the second session as he was put out to pasture for a spell. Wearing my discarded and creased uniform from the previous night, I must have appeared a trifle dishevelled as I hurriedly made my way to the middle with Simon Taufel standing in only his fifth ODI.
As I took a breath and realised where I was, Ajit Agarkar shuffled past me and the innings was on. In his fourth over, he trapped Ijaz Ahmed Sr. in front and repeated the dose to big Inzamam-Ul-Haq in his next over. Despite losing an over due to their slow over-rate when India batted, Pakistan held on, scoring the winning run in their two-wicket victory from their final delivery.
When Irfan Pathan dismissed Salman Butt, Younis Ahmed and Mohammad Yousuf with a hat-trick in the opening over of the Test in Karachi, I was standing quietly at square-leg, waiting to start at my end. India seized the advantage. At drinks, Pakistan was 6/39 and it appeared that all was lost for them. Yuvraj Singh later batted magnificently for India, top-scoring in both innings with 45 and 122.
A young wicketkeeper with a distinctive mullet haircut was playing in his sixth Test after debuting in Chennai against Sri Lanka only eight weeks earlier. MS Dhoni had arrived and at that time of his career, was still particularly quiet when it came to conversations with the umpires. He later changed and made up for lost time.
Pakistan built a substantial lead in their second innings, bolstered by Faisal Iqbal's maiden and only Test century (139) from his 26 Test match appearances. The first seven batsmen all passed the fifty run milestone before a declaration. But a target of 607 runs was always out of the question and India succumbed to be all out for 265 from 58.4 overs on the fourth afternoon.
My fourth India versus Pakistan confrontation had again been won by Pakistan, this time by 341 runs. They seemed to be a hoodoo team for India, so Indians should have been delighted that I wasn't appointed to any more!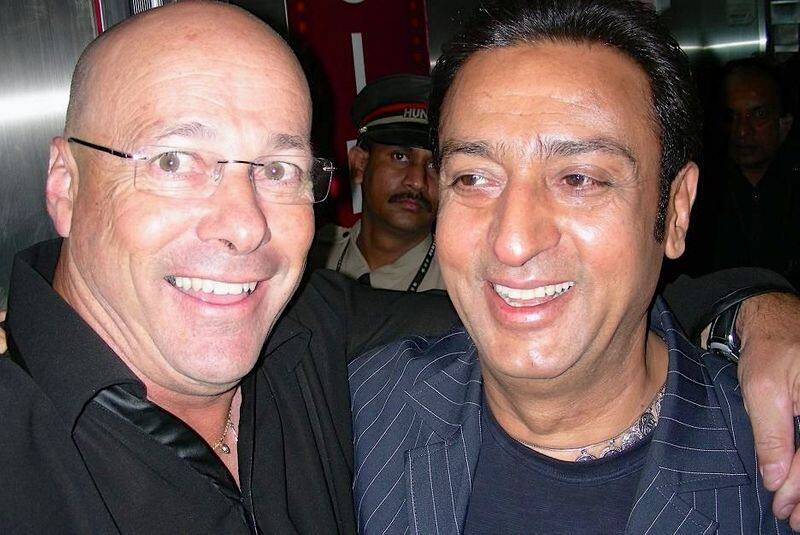 Harper with Gulshan Grover
Q: Do you miss India and its culture? What are your favourite Indian food/movie stars/places?
Harper: Early in my umpiring career I told my wife that I wouldn't consider myself a successful umpire unless I officiated in India and survived. Looking back now, I believe I achieved that goal. It wasn't all plain sailing but I loved every visit…Tests, ODIs, Champions Trophy, IPL and even Bollywood. Some of my colleagues thrived on Indian foods but I have a very sensitive disposition. Butter chicken was my dish of choice, but go easy on the butter was my request. On match days, I thrived on plain rice and ice cream…in different bowls of course.
I was always a keen fan of the Big B…Amitabh Bachchan who recently contracted the virus and of course Shah Rukh Khan who I met after a Kolkata Knight Riders (KKR) match.

Kareena Kapoor debuted in Refugee in 2000, soon after my first visit to India so I have followed her career with great interest. But to be honest, my very favourite Bollywood star is Gulshan Grover who I met in Mumbai at Bandra West on the Premiere Night of Victory, a movie that featured us both. Well…it featured Gulshan Grover but you need to search the last few minutes very carefully to find my Bollywood cameo. I had a non-speaking role…as a cricket umpire of all things. Gulshan's popularity with me came about through his nickname 'Bad Man'. As a cricket umpire I felt that I was often depicted as a bad man so the connection appealed to me immediately. With over four hundred movies to his credit, Gulshan Grover is a super star in his field.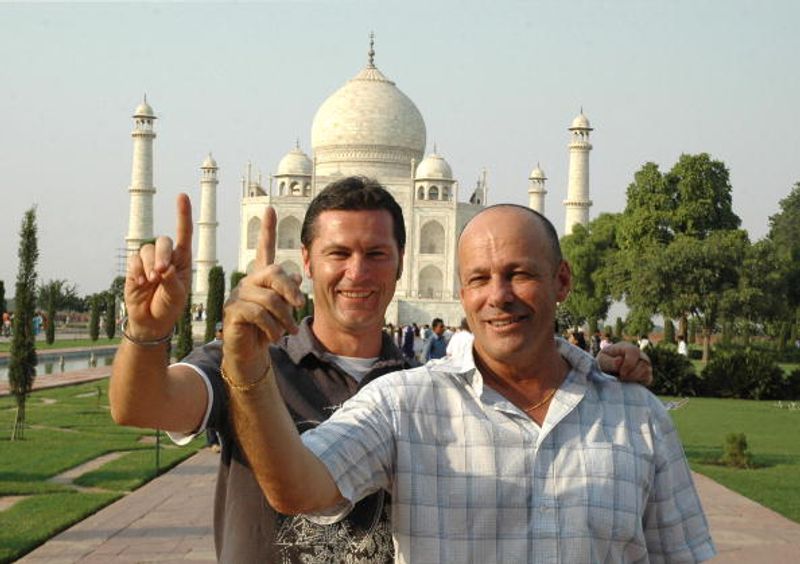 Harper with Simon Taufel at the Taj Mahal in Agra
Nominating favourite Indian places is challenging because every city and state has iconic locations. My wife and I enjoyed roaming around Colaba, enjoying some brilliant local restaurants and visiting The Gateway to India. We were fascinated by the Taj Mahal, a monument that has no equal in our travels. Jaipur, my Bollywood debut movie setting and Rajasthan have colourful traditions, with our daughter enjoying her visit to the Pushkar Camel Fair.
Further south, highlights for us included the city of Bengaluru and the Golkonda Fort in Hyderabad. The fort was built about 500 years ago and in Australia, our oldest man-made building is just over 200 years old. The city of Vellore also has a special place in our memories as I became a blood donor for the first time in my life at the Christian Medical College Hospital where we have some wonderful friends who once lived in Adelaide.

Q: What are the most famous Hindi lines who always remember? And, was there any Hindi guru for you or picked it up from Indian players?
Harper: On every visit to India, I watched far too much television. There was a commercial for a chewy sweet, possibly called ChlorMint that caught my attention when a man had his head immersed in a bucket-like container of unknown murky liquid. I believe he must have asked a question once too many times. "Dobara mat poochna," I understood to mean, "Don't ask that question again!"
During a rain delay in a televised match, one of my favourite commentators called me to speak with him across the fence. Arun Lal, with live microphone in hand, asked me how long I thought it would be before we resumed play.
Perfect opportunity, I thought.
"Dobara mat poochna!" I screeched at him, as he jumped backwards in shock.
I didn't have any particular mentors to learn Hindi but I did listen and repeat words and phrases like a parrot. I also made written notes so I could communicate with anyone in a simple way. I memorised the numbers from one to six and I very quickly discovered the two most commonly used words in the Hindi language…"Shabash, shabash!" You can't say it once: it only comes in pairs. Just listen to the stump microphone on any Indian match if you don't believe me.
Q: What do you want to tell the Indian fans?
Harper: Trust me. That delivery in 1999 at Adelaide Oval to Sachin was on target to strike the top five centimetres of the middle and off stumps…I'm reasonably sure.
Last Updated Jul 21, 2020, 11:24 AM IST