Exclusive: Daryl Harper on career highs, lows, DRS, cancer battle, Michael Holding's speech on racism (Part 2)
In this second and final part of an exclusive interview with Asianet Newsable, former international umpire Daryl Harper looks back at his career's highs, lows, cancer battle, issue of racism, and more. He said he was teary-eyed watching Michael Holding's emotional speech on racism during the recent England-West Indies Test in Southampton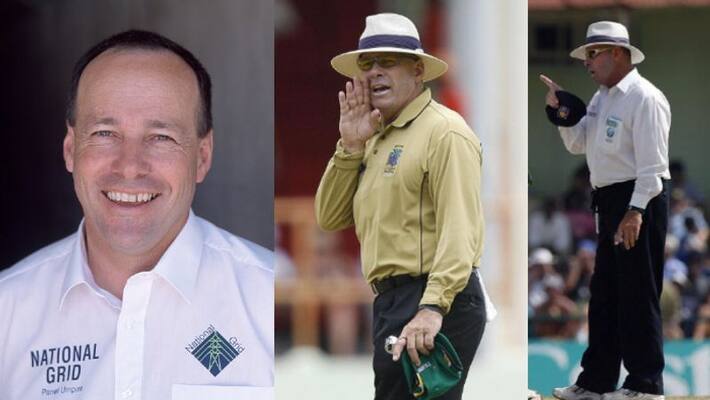 Bengaluru: Former Australian international umpire Daryl Harper reflected on his career and listed the highs and lows including a match when he was provided with 'substandard quality sound and vision' by the local host broadcaster. He also backed batting legend Sachin Tendulkar's views on 'Umpire's Call'.
Also read: Exclusive - From sleeping in graveyard to Team India, Raghu's incredible story
In this second and final part of the exclusive interview with Asianet Newsable, Harper spoke about his battle with cancer, being moved to tears while watching West Indies pace legend Michael Holding deliver a stirring speech on racism, well-behaved cricketers, use of technology in cricket, umpiring error in World Cup 2019 final and more.
Also read: Part 1 of exclusive interview with Daryl Harper
Excerpts
Question: How challenging will it be for umpires to officiate in post-COVID-19 scenario with all the interim changes to playing conditions by the ICC? How's the situation like in Australia?
Daryl Harper: Life will never be the same after the world eventually comes to terms with this pandemic. But I am confident that cricket will return to a new normal very quickly. There is a ban on applying saliva to shine the ball. When you step back and consider that players have been able to apply spit since anyone can remember, it must be a positive step for better health. Spit or saliva does contain bacteria that may be harmless in the mouth but can be harmful to others if contacted with an open wound.
Why are footballers regularly seen spitting while golfers are never seen spitting? Surely it's just a disgusting habit and an unsightly one at that. Habits can be changed but it takes time.
In the first Test back in England against the West Indies, players were applying perspiration from their backs. That moisture is made up almost entirely of water and that will achieve a similar effect to that achieved by saliva. Umpires may have several clips on their belts where bowlers can attach and detach their caps and jumpers. Bowlers have already been 'trained' to store sunglasses on the umpire's hat so that can continue without risk of transmitting any virus. They have it down to a fine art. Sometimes umpires are unaware that a bowler has deposited his glasses.
Small changes will occur but we are a very adaptable species. Cricket will continue and thrive.
Also read: ICC T20 World Cup 2020 postponed
Q: In this age of social media and intense scrutiny, how should umpires remain unfazed by criticisms/outside world (read internet)?
Harper: No one forces an umpire to read the papers or to check commentary on social media. There will always be a critic lurking in the darkness, ready to strike with the safety of anonymity. It's best not to respond or engage with such a creature because there's almost no chance of changing that person's opinion. Indifference is a powerful and disarming option and can be a very satisfying tactic for anyone who is targeted.
Also read: When Rahul Dravid saw cricket balls delivered at speed of 220 kmph
Q: Recently, AV Jayaprakash told us that umpires are always remembered for bad decisions and it is a thankless job. Do you agree?
Harper: It is inevitable that umpires will be remembered for decisions. I am a former umpire and I remember other umpires for their decisions. I'm sure other umpires remember me for some of my decisions.
Foremost in my mind is the absolute stinker of a decision that probably handed the World Cup to the wrong team in the July 2019 final at Lord's. It really didn't surprise me that none of the umpires or the referee apparently knew the Law involving the importance of where the batsmen were when Martin Guptill threw the ball from the outfield. Sadly former players turned umpires don't necessarily know some of the finer points of the Laws. I wondered how many, if any of the officials, including the match referee had ever been required to sit for a written test on the Laws.
Around the world, garden-variety umpires like myself, instantly reacted in disbelief at the incident because we had been required to learn the Laws and to take a written test, sometimes an annual event that reinforced our knowledge, season after season. We weren't ushered straight into the role because of our playing history. 
It wasn't a deliberate error but it should not have occurred with supposedly the best officials in charge. 
However it's a good reminder that it's the impact of a decision on the result that determines whether it is remembered. That error was monumental so it should be remembered. New Zealanders should be so proud of themselves for accepting the consequences of that disaster so graciously. Kiwi cricket captains have a long history of playing in the best spirit, including Daniel Vettori, Stephen Fleming and Brendan McCullum in my experiences. Kane Williamson is continuing to develop the fine legacy.
I was optimistically awaiting an acknowledgement from ICC that the officials had erred but all I read was a severe case of avoiding the blame. Apart from the on-field umpires getting it wrong, the third umpire and referee should have owned up to their involvement. Almost everyone who has been appointed as a third umpire will tell you that it is a team effort and everyone contributes to the team performance.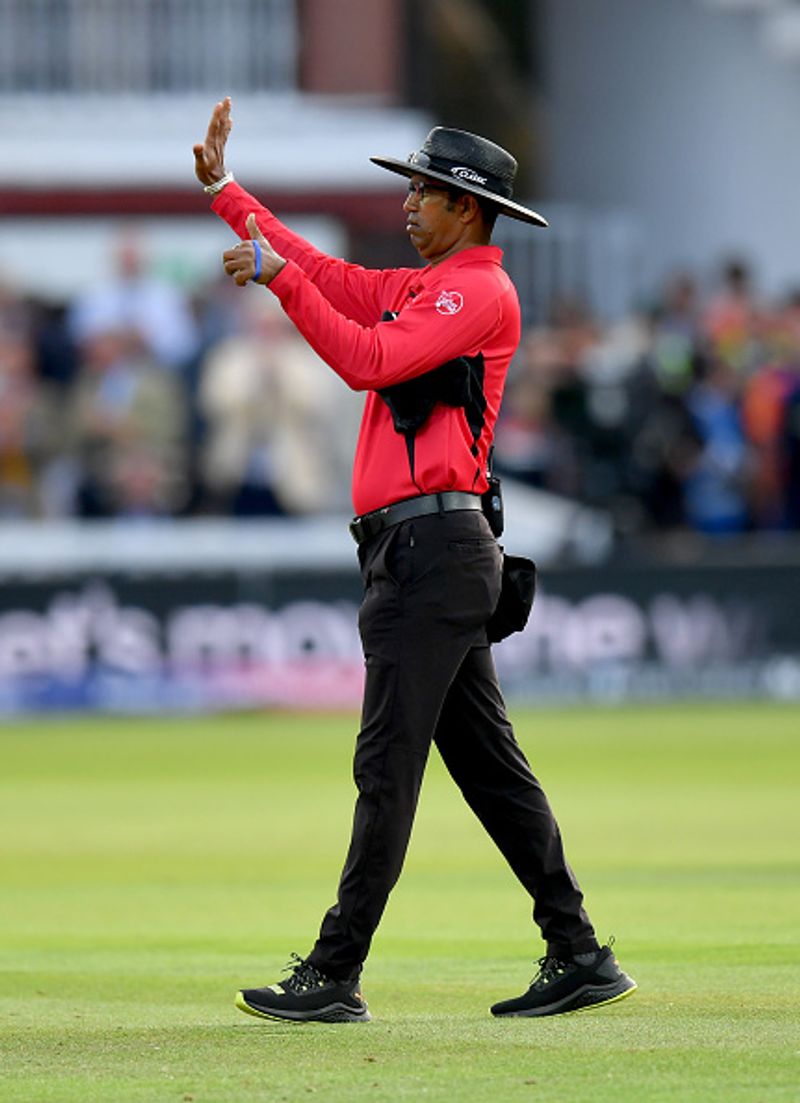 A spokesman suggested that the third umpire and referee were unable to intervene and provide the vital facts of the matter unless they were asked. 
What a joke! Imagine a first officer in the cockpit of a jet liner who looks across in horror when he sees his short-sighted captain about to accidentally press the emergency button that is designated 'DETACH WINGS' instead of 'LOWER WHEELS.' Does he bite his lip, think of the family and brace himself for the inevitable spiral out of control, sudden end to the flight and his lifeor does he interrupt the protocols and alert the captain to the error of his ways. Thanks to Gary Larsen's Far Side Collection for the inspiration.
I even imagined the wording of the media release that never came. 
"The ICC Chief Referee and the World Cup Final Umpires humbly apologise for the grave error regarding the overthrows awarded to England at the climax of the match. Law 19.8 is rarely applied and none of the Playing Control Team was aware of the Law. The public should be confident that the moment was a great learning experience for all concerned and the Team confidently believes that they know most of the other Laws. Management has already listed Law 19.8 as an agenda item in the lead up to the next World Cup in four years time."
I was disappointed at the decision from my comfortable armchair 16,000 kilometres from Lord's in the early hours of the morning. I might have been sleep deprived, I might have misread the whole situation, I might have missed the explanations and apologies…and pigs might fly too.
It is a fact that fans can be very passionate about their players and their teams. If a decision is believed to go against a team, people tend to remember such moments. It is only natural to remember those perceived turning points…and the umpires who made them.The majority of decisions that umpires make are correct but seldom celebrated because the public generally expects umpires to get every decision right.
I understand AV's description of umpiring being a thankless job. My first visit to India was for a Test with New Zealand in Kanpur and AV was my on-field partner and wonderful host.
In my case, I never really expected anyone to thank me for doing my job. I just loved being involved, meeting people and visiting countries and discovering new languages and cultures. I gained satisfaction when I believed that I had enjoyed a very good performance…not necessarily a perfect performance but what I assessed as an excellent job. If a player shook my hand post-match and thanked me for the game with a smile on his face, then that was a huge bonus and always appreciated. That was all the thanks I needed.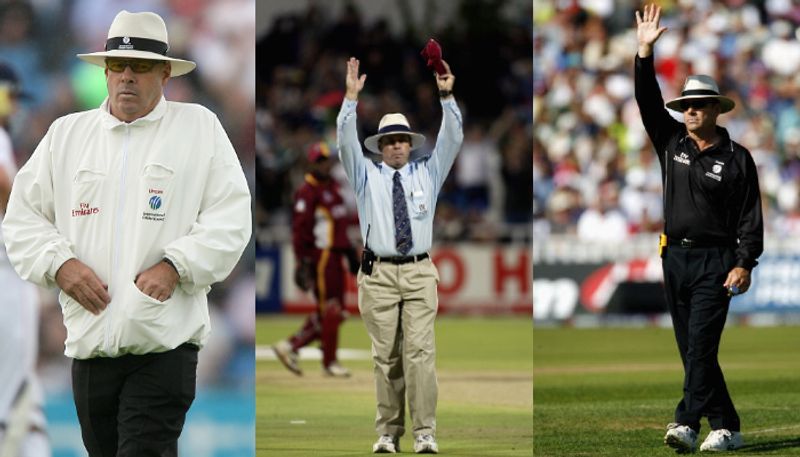 Q: Is too much use of technology to assist umpires good or bad for the game?
Harper: The cricket public has grown to expect 'perfection' with decisions after being immersed in decision reviews since they were trialled and introduced more than a decade ago. There is no chance of that dependence being wound back by reducing the use of technology. The broadcasters love displaying their new tools as much as children love their new toys at Christmas. 
Currently we have a reasonable amount of technology that doesn't infringe too heavily on the fluency of the game. So, in my opinion, we have presently settled on an acceptable arrangement. Too much use would delay the action in a sport that already stretches the concentration span of many fans.
I have read that the responsibility for detecting front foot no balls is soon to be delegated to the third umpire. This was expected to apply in the next Men's T20 World Cup and possibly adopted for all international matches from next year.
Three dismissals reversed in the most recent Rose Bowl Test when the deliveries were found to be illegal created further concerned discussions in cricket circles. It would appear that to err is human…but it is also unacceptable. The human aspect of umpiring is further diminishing in the search for absolute purity.
But don't fear…the players are still permitted to drop catches and to fumble run out opportunities like we saw in the recent first Test.
Q: What are your views on LBW decisions involving 'Umpire's Call'?
Harper: I have developed a great pleasure in watching the review of LBW decisions…especially if they aren't mine. I enjoy the build up of tension and the drama involved. I do enjoy hearing the third umpire's voice as we are guided through the process but I really struggle with 'Umpire's Call.'
We accept that the technology is improving rapidly and we aren't naïve enough to believe that the systems are perfect. But it is only a game. If the technology determines that the ball was going to hit any part of the stumps, then that should be enough for a dismissal.
I totally agree with Sachin Tendulkar who was recently quoted as promoting this view. The sooner Umpire's Call is gone the better. Then the authorities can sensibly and confidently plan for four-day Test cricket. A fifth day will be superfluous.
Of course, an asterisk will need to be added to batting and bowling records as batsmen grimace in disappointment and bowlers grin like Cheshire cats as they feast on the bonus cream.
The umpires are highly skilled at making an extremely difficult judgement. But they are human. Let's anticipate and expect that the technology will be consistent throughout the match for both teams. Whatever your opinion about the use of rocket science, I can assure you that it has educated and retrained umpires to analyse appeals with greater scrutiny.  I believe the accuracy of judgement of current officials has improved significantly since the turn of the century when I officiated in my first Test match. We were amateurs compared with the current clutter of umpires.
Q: Looking back at your umpiring career, could you list out the memorable moments/matches?
Harper: Reviewing over 800 games of cricket is a monumental task. However the matches that I cherish most for a variety of reasons include the following:
Australia v England…Perth (1998) an Ashes Test on debut
Sri Lanka v Pakistan…Lord's (2009) ICC Twenty20 World Cup final
India v Kenya…Durban (2003) ICC World Cup semi-final
India v England…Chennai (2008) first Test days after terrorist attack on Mumbai with Sachin's 41st Test century bringing up the winning runs
South Africa v West Indies…Cape Town (2003) opening game of 2003 ICC World Cup
Australia v India…Adelaide (1999) first and only Test in home town
India v Pakistan…Karachi (2006) a classic contest between neighbours
New Zealand v South Africa…Perth (1994) first ODI with Allan Donald bowling my first over in the big time
England v West Indies…The Oval (2000) the hosts regained The Wisden Trophy after a thirty-two year domination by the Windies
Bangladesh v England…Chittagong (2011) ICC World Cup surprise result played in difficult conditions with heavy dew creating havoc
Q: And, what about low points in your umpiring career and that final year of your international journey in 2011?
Harper: Without a doubt, the very lowest point of my umpiring career came during and after the second Test between South Africa and England at The Wanderers in January 2010. It was my 10th appointment as third umpire in Tests and was to become the final time I was invited to take that role. That should have warned me that my end was nigh.
During the match, as third umpire I was asked to review eight on-field decisions. I was provided with substandard quality sound and vision by the local host broadcaster, while the rest of the world, including the players' dressing rooms watched and listened to an international quality telecast.
I discovered after play on the second day that Graeme Smith definitely did edge Ryan Sidebottom to Matt Prior when he had scored only fifteen runs. The host TV director confirmed at the critical instant that he also could hear no sound as the ball passed Smith's bat. I had sought his assistance in the hope that he could provide another replay with enhanced sound. My inquiry produced nothing new so I upheld Tony Hill's not out decision.
We were in the minority. The whole world knew that Smith should have been out for 15 runs. Ryan Sidebottom did eventually capture Smith's wicket on the second day, but only after Graeme had celebrated his 20th Test century.
The reviews continued to come. AB de Villiers was reprieved twice, Mark Boucher had a second life, while poor Alastair Cook and Andrew Strauss had their reviews dismissed and were sent packing. Everything seemed to fall in South Africa's favour.  Even Stuart Broad, who stood his ground after edging to keeper Boucher, lost his review after Steve Davis had correctly given him out. At least that edge only went to the keeper, unlike an edge to first slip when Broad successfully dared Aleem Dar to give him out in the first Ashes Test of 2013 at Nottingham when the catch was completed at first slip. On that occasion, Ashton Agar's brilliant Test debut, England scrambled home when the result should have been reversed.
Back to Jo'burg, the tourists were incensed. South Africa won that final Test by an innings and 74 runs to draw the four-Test series after England had won in Durban and the other two results were draws.
An inquiry was demanded by the ECB (England Wales Cricket Board) and it appeared to everyone else that my head would roll. Brent Lockie, a barrister from Edinburgh and Clive Lloyd were given the task by the ICC of investigating my performance.
Six months later, their Lockie-Lloyd Inquiry was completed and my actions, decisions and overall performance were completely supported, although the result probably didn't rate as newsworthy back in England.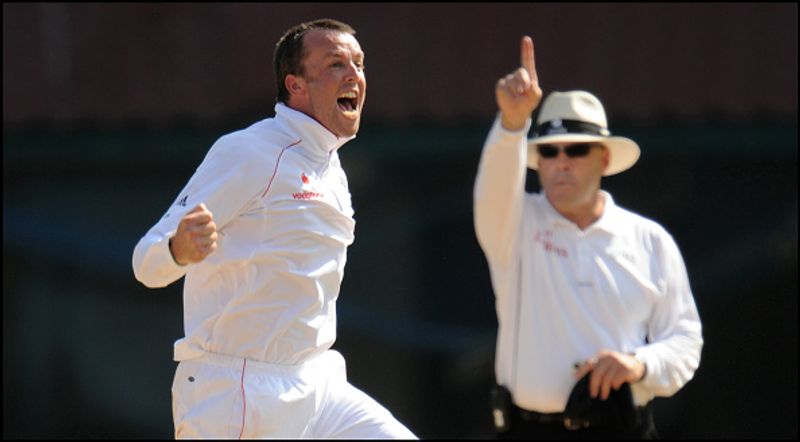 Q: How's your life been after quitting international umpiring? And, could you tell us how tough was your battle with cancer?
Harper: As I walked off Sabina Park in Jamaica in June 2011, my first grandchild was born almost simultaneously back in my hometown of Adelaide, South Australia. So as one life of officiating finished, a new life as a grandparent began. It was a beautiful moment in both worlds. I had been so fortunate to umpire around the world, and now I was fortunate to see a new generation begin.
In retirement, I immediately enjoyed a summer umpiring local baseball, a very challenging task, given I was then sixty years young. But I was back into cricket soon after and have been refereeing domestic cricket from 2012 until the most recent season came to an abrupt halt.
Dealing with cancer, of the colon variety, was tougher than any challenge that cricket ever threw at me. It was detected as a severe case and I was quickly operated upon within a week. The six months of chemotherapy that followed were relentless as I also lost over twenty kilograms in quick time. Recovery is continuing three years later and I must be honest and admit that after losing twenty kilos, I have found another thirty!
Q: During your international umpiring career, who were the best players in terms of good behaviour. If you could pick some
Harper: I have answered every question honestly and I have not hesitated until now. I can't think of a single international cricketer who didn't display good behaviour, even if they occasionally indulged in a little mischief.
Venkatesh Prasad once allegedly used a 'naughty' word that was not appreciated by Azhar Mahmood in an ODI on Adelaide Oval. A hearing was held post-match and apparently Venky was using a local term in his language that sounded remarkably like a forbidden word in Azhar's native tongue. He was exonerated and cleared by the referee but I wasn't totally convinced.
Virender Sehwag was always ready to chat on the field at quiet moments. He was a bright and friendly personality and a great ambassador for his country. He also criticised my decision in the press to give him out lbw in Chennai to Graeme Swann in the second innings for 83 runs. It was Swann's debut Test and in the first over he had bowled at this level, I had adjudged Gautam Gambhir and Rahul Dravid also lbw to Swann.
This was in December 2008, only days after the horrible terrorist attack in Mumbai. The technology predicted that the ball would clip a stump. It was tight but out for everyone to see. Viru wasn't happy and he said so. It happens. I never thought of him differently after that. We continued to chat and he even posed for a photo wearing a playing uniform for my local football team, the Adelaide Crows.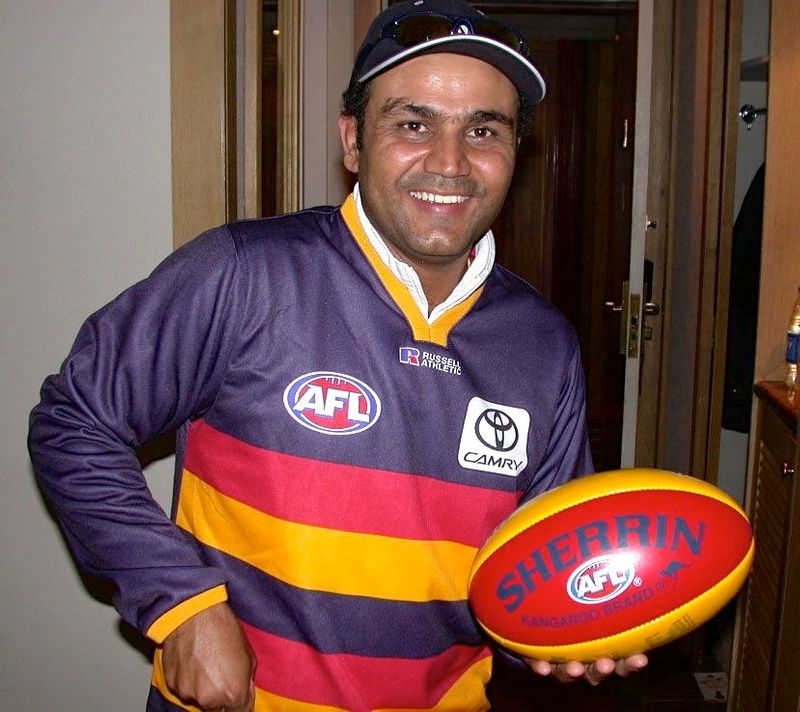 South African Jonty Rhodes probably appealed to the cricket world as a charming young entertaining character. He was all of that…but with similar senses of fun, we enjoyed making fun of each other. During my first overseas Test in Auckland, he was impressed with my Afrikaans accent. "Goeie more" sounded "hoya moray" meant "good morning." Another was "Dankie" meaning "thank you." It was very basic and Jonty claimed he was impressed with my accent.
He persuaded me to use a new phrase when addressing his captain who was bowling at my end. I hesitated but was always keen to expand my vocabulary. Very quickly, I was asked not to call Hansie Cronje that word because it was the worst word imaginable! The competition with Jonty had begun and I always wanted to get in the last word.
Some cricketers were talkers and others preferred to be silent types. It didn't influence my decision-making because the only factors that were considered after an appeal were the basic facts.
I could name several hundred best players in terms of good behaviour but time and space are limited.
Q: Should the ICC do away with neutral umpires and pick match officials based on merit/experience?
Harper: The current series in England is using home umpires due to the pandemic. The first Test had a number of moments when decisions were reviewed and overturned. Three dismissals became not outs when the third umpire detected no ball infringements.  No umpire enjoys that experience and I should know as I hold a world record in overturned decisions in a single ODI!
With the Decision Review System (DRS) in operation, both teams have the option of reviewing unpopular or even borderline judgements. As long as a team doesn't burn its opportunities needlessly, like India did regularly in the trial phase of the system against Sri Lanka in 2008, the correct decisions can be achieved. Some national captains endure years of pain before they eventually learn to use their options judiciously.
Any opposition to neutral umpires will still come from cricket fanatics who perceive a hometown bias, despite the best of intentions from every international umpire.
Q: Should umpires wear protective equipment with the amount of big hits seen in T20s?
Harper: In 17 years of international cricket the ball struck me on only three occasions: once on the shin and twice in the centre of my chest. Both chest blows were struck by Sri Lankans and both Sanath Jayasuriya and Tillekeratne Dilshan immediately complained that I had cost them three runs! Both X-rays cleared me of any serious damage. Both were during Test matches.
The question of umpires wearing protective equipment is entirely a personal choice at this moment. Certainly the most dangerous moments occur when the ball is driven straight back towards the bowler at a furious pace. Umpires can usually twist or jump or sway to avoid the deadly missile. But if there is the slightest deflection from the bowler's hand or body or the non-striker's equipment, namely the bat, the opportunity to dodge the ball is immediately reduced to zero.
The question will be easily resolved if equipment manufacturers can produce lightweight protection at a good price.
Q: In recent times, there has been a lot of talk on the issue of racism. And, cricketers too have joined BLM (Black Lives Matter) movement. West Indies pace legend Michael Holding turned emotional and gave a powerful message during England-West Indies first Test. What are your views? 
Harper: Like most people in the world today, I just don't understand how this racism problem has continued to rage into this century. It defies logic in modern educated times. I was misty eyed on many occasions during recent vision coming out of Minneapolis. The Black Lives Matter movement has finally forced us all to sit up and take notice and think about our attitudes and to care about others. 
Michael Holding must have been an intimidating sight for a batsman preparing to deal with a thunderbolt. I know he could be an intimidating voice on the commentary, especially when he disagreed with my decision. But when Michael Holding spoke about the subject of racism during a break in play during the first Test at The Rose Bowl (Southampton), he reduced me completely to tears. His words challenged me to be a better person and I salute and respect him for his message to us all.
Last Updated Jul 21, 2020, 10:45 AM IST