Earth Hour: Rohit Sharma urges people to switch off lights tonight amid coronavirus lockdown
Today (March 28) is Earth Hour. India cricketer Rohit Sharma wants people to participate in this annual tradition despite the coronavirus lockdown. People have to switch off lights between 8.30 pm and 9.30 pm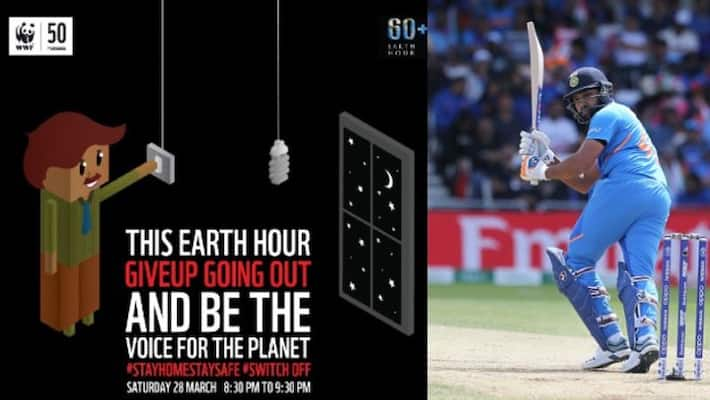 Mumbai: India limited-overs cricket team's vice-captain Rohit Sharma on Saturday (March 28) urged everyone to switch off lights between 8.30 pm and 9.30 pm for the annual Earth Hour tradition.
Since 2007, Earth Hour sees people across the world switching off lights for one hour to spread awareness about climate change. It was started by World Wildlife Fund (WWF).
Also read: Virat Kohli speaks on 21-day lockdown
This year, Earth Hour is today (March 28). With India under a 21-day lockdown to fight against the deadly novel coronavirus (COVID-19), Rohit stated that "these are challenging times" but added that "we still can do our bit to help our planet recover".
Also read: Sachin Tendulkar donates money to PM relief fund
He tweeted, "These are challenging times & while we #stayathome, we still can do our bit to help our planet recover. See the things you can do to add your #VoiceForThePlanet - http://earthhour.in. This #EarthHour on Mar 28 #switchoff from 8:30-9:30pm. Tag @WWFINDIA  & tell us what you did! (sic)."
This year, Earth Hour has gone digital due to coronavirus. "In the midst of the global COVID-19 health crisis, Earth Hour marks a moment of solidarity for the planet as global communities unite and organize events digitally," Earth Hour's website stated.
Marco Lambertini, Director General, WWF International, said, "We are deeply saddened by the loss of lives from the COVID-19 outbreak and our thoughts are with the families who have lost loved ones or who are sick. In this hour of crisis, we need to unite now more than ever to safeguard our future and the future of our planet. It is a time for solidarity and a time to respond to challenges more creatively and work more collaboratively, which is why Earth Hour is being marked through digital events across the globe."
Greta Thunberg, climate and environmental activist, said, "Earth Hour for me is every hour of every day. The need to unite and protect our planet has never been greater. As we have been asked to avoid public gatherings to slow the spreading of the COVID-19 (coronavirus), I recommend everyone to come together virtually for #EarthHour to renew our commitment to the planet and use our voices to drive action online safely and responsibly."
Last Updated Mar 28, 2020, 4:09 PM IST