Virat Kohli's stellar performance in the World Cup earns praise from Sir Vivian Richards
Virat Kohli's outstanding batting display has not only solidified his position as one of the game's all-time greats but has also garnered admiration from West Indian legend Sir Vivian Richards.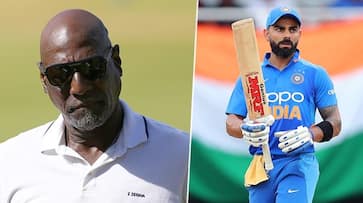 Virat Kohli, hailed as one of the cricketing greats by West Indian legend Sir Vivian Richards, has demonstrated exceptional form in the ongoing World Cup 2023. The batting maestro achieved a remarkable milestone by accumulating 543 runs at an impressive average of 108.60. Sir Vivian Richards, renowned for his own cricketing prowess, expressed admiration for Kohli, placing him among the pantheon of all-time greats alongside the legendary Sachin Tendulkar. Kohli's 49th ODI century, achieved in a World Cup clash against South Africa at the iconic Eden Gardens in Kolkata, not only added another accolade to his illustrious career but also equalled Tendulkar's world record for the most centuries in the 50-over format.
Richards, acknowledging Kohli's resilience during challenging times, commended India's support staff and management for standing by him. In an article on the International Cricket Council (ICC) portal, Richards wrote, "Virat will have been through some tough times before this World Cup, and some folks were even brave enough to call for his head. Credit must be given to the backroom staff and everyone who backed him."
The Windies great praised Kohli's mental toughness as the distinguishing factor that sets him apart from other players. He lauded Kohli's focus, enthusiasm, and the credit he brings to the game of cricket. Richards also highlighted the parallels between their on-field intensity and expressed appreciation for Kohli's proactive approach in the game.
Kohli's exceptional record in successful run chases, boasting an average of 90.40 with 23 centuries, showcases not only his mental fortitude but also cements his status as a contemporary batting great. As Team India remains unbeaten in the ODI World Cup, securing a spot in the final four, the cricketing world eagerly anticipates their upcoming semifinal, likely against New Zealand.
Also Read: ODI World Cup 2023: Rachin Ravindra breaks records, surpassing Bairstow and Tendulkar
Last Updated Nov 10, 2023, 2:24 PM IST