Virat Kohli's century in challenging conditions applauded by Ravindra Jadeja
Virat Kohli's outstanding century in testing conditions at Eden Gardens garners praise from fellow cricketer Ravindra Jadeja.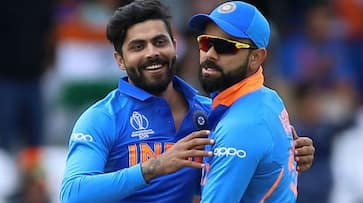 Virat Kohli deserves full credit for his remarkable century, especially considering the challenging conditions," acknowledged Ravindra Jadeja. He pointed out that the pitch at Eden Gardens was more challenging for batting in the afternoon, particularly when facing South African spinners. Although Jadeja himself made a significant impact with an unbeaten 29 not out and a five-wicket haul, the spotlight was on Kohli, who was awarded the Player of the Match for his record-equalling unbeaten 101.
Jadeja remarked, "This innings holds special significance for Virat. The pitch was quite demanding, and at times, it felt like a target of 260-270 would be par for this pitch." He praised Kohli's ability to rotate the strike, especially when the runs were hard to come by, and credited him for taking the team's score beyond 300.
Reflecting on the pitch conditions, Jadeja noted that it became more suitable for batting later in the evening. He mentioned, "When South Africa's spinners bowled, the pitch provided more assistance, with increased turn, and the bounce was limited. In my opinion, the pitch became somewhat more conducive for batting in the evening, though not necessarily easy."
He also discussed the team's decision to bat first, explaining that it was a strategic choice to evaluate how they would perform if they had to bowl under dew conditions in a potential semi-final in Kolkata.
As one of the few players who can effortlessly bring humor to the team, Jadeja has been a valuable contributor with both his batting and bowling. He mentioned, "I always think like a captain from day one, although I am not the captain. My role is to score 30-35 runs and break partnerships as an all-rounder." He emphasized his commitment to delivering impactful performances and maintaining a high standard of fielding.
Jadeja acknowledged that he has been in good rhythm in recent games and expressed confidence in his ability to contribute to the team's success with both bat and ball. He also credited the fast bowlers, including Jasprit Bumrah, Mohammed Shami, and Mohammed Siraj, for making his job as a spinner easier by taking early wickets and creating pressure on the opposition. He hopes that the fast bowlers can continue to perform well in the upcoming knockout matches.
Also Read: 'Maintaining emotional composure is a vital aspect of my performance' says Virat Kohli
Last Updated Nov 6, 2023, 2:35 PM IST