ODI World Cup 2023: Shoaib Akhtar's confident prediction for winner of the mega event
Former cricket legend Shoaib Akhtar has shared his unwavering confidence in India's prospects in the Cricket World Cup 2023.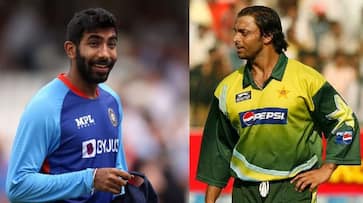 Virat Kohli's impressive innings of 95 secured India's fifth consecutive victory in the ICC Cricket World Cup 2023, marking a strong start for the Indian team in the tournament. They have triumphed in all their first five matches, including significant wins against formidable teams like Australia, Pakistan, and New Zealand. After India's hard-fought 4-wicket win over New Zealand in Dharamsala, legendary Pakistani cricketer Shoaib Akhtar expressed his bold views, suggesting that Indian players like Shubman Gill, KL Rahul, Rohit Sharma, Bumrah and others possess the individual talent required to overcome the Kiwis in this World Cup.
Virat Kohli led India's successful run chase, scoring 95 runs to secure the victory. Akhtar praised the Indian superstar and emphasized how Kohli excels under pressure, turning such moments into opportunities for remarkable performances on the cricket field and even amassing a significant following on social media.
Shoaib Akhtar further stated that players like Shubman Gill, KL Rahul, Rohit Sharma and Bumrah when combined, are more than capable of handling the any team. He highlighted India's deep batting lineup and the contributions made by various players in different matches.
Akhtar also commended Mohammed Shami, who played his first game in the tournament and took 5 wickets, earning the title of Player of the Match. Despite Shami's slightly expensive bowling, Akhtar recognized his role in preventing New Zealand from reaching a formidable total. He stressed the importance of India continuing with their current bowling attack, citing the team's well-rounded batting and bowling lineup. Akhtar expressed strong confidence that India should unquestionably aim for victory in the World Cup.
Also Read: Afghanistan players grooving to 'Lungi dance' after WC win over Pakistan takes internet by storm (WATCH)
Last Updated Oct 24, 2023, 1:29 PM IST