ODI World Cup 2023: Rohit Sharma breaks Sachin Tendulkar's record for most hundreds in World Cup history
Cricket history was rewritten as Rohit Sharma goes past the legendary Sachin Tendulkar, securing the record for the most centuries in the ODI World Cup 2023.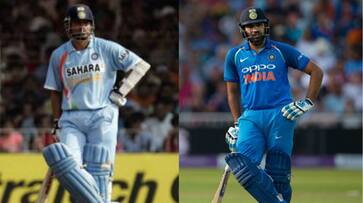 In a historic moment at the ODI World Cup 2023, Rohit Sharma has shattered records by breaking Sachin Tendulkar's longstanding milestone for the most centuries in World Cup history. Rohit's goes past Sachin Tendulkar with 7 centuries.
Rohit Sharma notched a historic achievement by surpassing the records set by Matthew Hayden and Sachin Tendulkar, as he raced to the fastest century ever seen in a World Cup. Leading the Indian team in the 2023 World Cup clash against Afghanistan at Delhi's Arun Jaitley Stadium, Rohit displayed his impeccable form, scoring his 31st ODI century. His hundred came in just 63 balls, rewriting the record books as the fastest century by an Indian in the history of the World Cup. The previous record, held by Kapil Dev since 1983, was achieved in 72 balls. Rohit outshone that by nine balls, propelling India towards their pursuit of 273 runs against Afghanistan.
Rohit's explosive century also saw him eclipse the legendary Sachin Tendulkar's record for the most centuries in World Cup history, amassing a total of seven centuries. Tendulkar, a cricket icon, had managed six centuries in his five World Cup appearances from 1992 to 2011. In stark contrast, Rohit achieved this feat in only 19 World Cup innings, solidifying his position at the top of the list.
The evening witnessed Rohit reaching additional milestones. He accomplished 1,000 runs in World Cup matches, joining an elite group of Indian cricketers alongside Tendulkar, Virat Kohli, and Sourav Ganguly. Furthermore, Rohit's stellar performance included striking three sixes, earning him the title of the leading six-hitter in international cricket, surpassing the record previously held by the formidable 'Universe Boss,' Chris Gayle.
Also Read: ODI World Cup 2023: Rohit Sharma becomes leading six-hitter, Breaks Chris Gayle's record
Last Updated Oct 11, 2023, 8:57 PM IST