ODI World Cup 2023: India vs Netherlands warm-up match; Toss delayed due to wet outfield
In the lead-up to the 2023 Cricket World Cup, India and the Netherlands face off in a warm-up match, but rain has delayed the toss, leaving fans eagerly awaiting.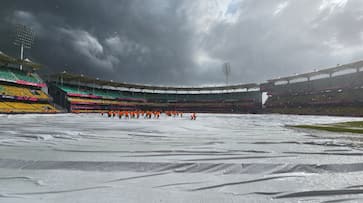 In the lead-up to the marquee event, warm-up matches have become a customary tradition. Each game offers valuable takeaways, yet amidst the extensive travel across India, players also crave some much-needed rest.Unfortunately, rain has disrupted several warm-up fixtures, including India's first match against England in Guwahati, which ended in a washout. Another abandoned match would not concern them greatly. 
Netherlands, too, encountered rain interruptions in their warm-up encounter with Australia. Although it was a shortened game, they did manage to get some playing time. The Dutch team also faced Karnataka's domestic side in practice games and faced tough competition. Therefore, this fixture holds significance for the Netherlands, also known as the Orange Army.
In the World Cup Warm-up match between India and the Netherlands, the Indian cricket team, after the disappointment of a rain-affected match against England, is preparing to face the Netherlands, hoping for an uninterrupted 100-over contest. Rohit Sharma's squad aims to address a few issues before embarking on their Cricket World Cup campaign. Meanwhile, the Netherlands, who had a brief outing against Australia in their first practice game, batting for only 14.2 overs while chasing a target of 167 runs, will be eager to put up a stronger performance against the formidable Indian team."
Last Updated Oct 3, 2023, 3:25 PM IST