ODI World Cup 2023: From selling snacks to fund education to Pakistan national team - Haris Rauf's journey
Discover the remarkable journey of Haris Rauf, the Pakistani cricket sensation, as he reflects on his past struggles of selling snacks (nimco) to finance his education.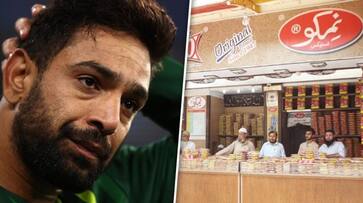 Ace Pakistani fast bowler Haris Rauf recently shared his journey of overcoming adversity, revealing that he used to sell snacks in the market to cover his education expenses. He described how this challenging phase persisted until he ventured into tape-ball cricket. Haris Rauf, who made his debut for the Pakistan national team in 2020, has emerged as a key asset in Pakistan's fast-bowling arsenal, consistently delivering speeds exceeding 145 km/h and amassing 53 ODI and 83 T20I wickets for his country.
"After completing my matriculation, I worked in the market selling snacks (nimco) on Sundays to support my education. During the week, I attended school and practiced at the academy," Rauf shared with ESPNcricinfo.
"When I enrolled in university, my father's income wasn't sufficient to cover my fees, and I couldn't afford it either. However, by playing tape-ball cricket, I managed to finance my education comfortably.
"Professional tape-ball cricketers in Pakistan can earn approximately 2-2.5 lakh rupees per month. I earned that much, which I would give to my mother, but I never disclosed my earnings to my father."
Rauf also revealed that there was a point during his struggling days when he and his family had to sleep in the kitchen due to limited living space.
"My father had three brothers, and they all lived together. My father initially had a large room, but when my uncles got married, he gave his room to them. Eventually, our living situation became so cramped that we had to sleep in the kitchen," Rauf recalled.
The art of pace bowling adds an extraordinary dimension to the game of cricket. Delivering a ball above 140 km/h is considered a commendable feat even in international cricket, and bowlers who can achieve such speeds with precision are highly valued. Pakistan's Haris Rauf is one such gem, consistently clocking speeds of around 150 km/h.
Also Read: Asian Games 2023: India vs Nepal Quarter-final; Venue, live streaming details and more
Also Read: ODI World Cup 2023: India aims for third World Cup victory as Cricket's global spectacle set to kick off
Last Updated Oct 2, 2023, 9:13 PM IST