Global T20 Canada: Azam Khan's quirky wicketkeeping style goes viral (Watch)
Pakistan cricket star Azam Khan is making waves in the Global T20 Canada with his one-of-a-kind wicketkeeping style. A video of Khan's antics behind the stumps during a match between Mississauga Panthers and Surrey Jaguars has taken social media by storm.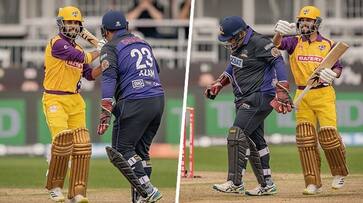 Pakistan's upcoming star Azam Khan's unique style of wicketkeeping has captured attention during a Global T20 Canada match. In a video that has gone viral on social media, the 24-year-old can be seen singing and sledging his fellow countrymate, Mohammad Haris, during the match between Mississauga Panthers and Surrey Jaguars on August 2.
As the Jaguars chased a modest target of 57 runs, Khan tried his best to distract Haris with his antics behind the stumps. He appealed for Haris' wicket on a couple of occasions, sledged him, and encouraged the bowler while Haris faced deliveries.
Fans were delighted by Khan's entertaining display, and enjoyed the banter between the two Pakistan players. Some fans also compared him to his father and former Pakistan wicketkeeper Moin Khan for his similar style of play. The lighthearted moment between Khan and Haris at the end of the video added to the amusement.
Despite Khan's efforts, Surrey Jaguars comfortably secured an eight-wicket victory over Mississauga Panthers, with Haris guiding his team to victory with an unbeaten 37 runs off 23 balls. Earlier, Sandeep Lamichhane's three-wicket haul had restricted Panthers to a poor total of 56 runs.
Azam Khan's performance on the field has garnered praise and admiration from fans, he has also been the standout performer for his team in the Global T20 Canada tournament. It will be interesting to see if he maintains the consistency and turns up during the business end of the tournament which are the all-important qualifiers.
Also Read: Former Pakistan prime minister Imran Khan arrested and sentenced to three years
Last Updated Aug 6, 2023, 2:48 PM IST