Cricket maestro Sachin Tendulkar and other cricketers extends warm Dussehra wishes to all
Cricket icon Sachin Tendulkar shared an uplifting Dussehra greeting on his Instagram, encapsulating the spirit of Vijaya Dashami.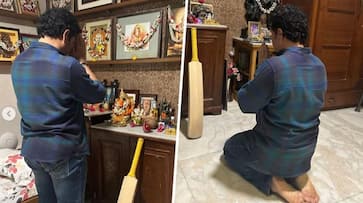 Cricket legend Sachin Tendulkar, widely regarded as the "Little Master," recently took to Instagram to extend his warm wishes on the occasion of Dussehra, also known as Vijaya Dashami. In his heartfelt message, Sachin shared a profound message that resonated with the spirit of the festival. In his Instagram post, Sachin Tendulkar wrote, "Happy Dussehra to all celebrating Vijaya Dashami! Just as the ball sails over the boundary, may the triumph of good over evil clear all the hurdles in your life. Keep batting for the right cause. Stay blessed!"
Meanwhile, Gautam Gambhir extended his wishes by posting an image of Ravana. Dussehra, as per the Hindu calendar, marks the historical triumph of Lord Ram over the nefarious king Ravana. On this day, people nationwide observe this victory by igniting towering effigies representing the demon king Ravana, symbolizing the ultimate conquest of righteousness over malevolence. Several other cricketers also joined in sharing their Dussehra greetings.
Also Read: Afghanistan coach Jonathan Trott's emotional dressing room speech after historic win against Pakistan
Last Updated Oct 24, 2023, 5:30 PM IST