Coronavirus: Sachin Tendulkar, Virat Kohli salute Maharashtra Police with this gesture
Sachin Tendulkar and Virat Kohli lauded Maharashtra Police for their efforts during the fight against the coronavirus (COVID-19) health crisis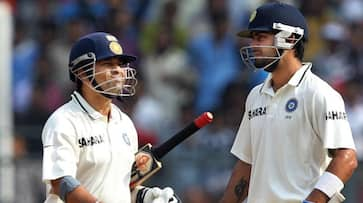 Bengaluru: Batting legend Sachin Tendulkar and Indian cricket team captain Virat Kohli saluted Maharashtra Police for fighting the coronavirus (COVID-19) pandemic from the frontline.
Both Tendulkar and Kohli took to the micro-blogging website Twitter to appreciate the efforts of Maharashtra Police. They thanked them by changing their DP (Display Picture) to Maharashtra Police logo on Twitter accounts.
Also read: Virat Kohli, Anushka Sharma donate money to Mumbai Police
Kohli wrote on his Twitter page that he is celebrating Maharashtra Police by changing the DP and also urged everyone to do the same.
Also read: List of cricketers who have donated to PM CARES Fund
"Maharashtra Police has stood by citizens through calamities, attacks & disasters. Today as they lead the war against Corona on the streets, I've decided to celebrate them by changing my DP here on Twitter to the Maharashtra Police logo.  Join me in this endeavour (sic)," Kohli wrote on Sunday (May 10).
Tendulkar thanked Maharashtra Police and all the police personnel across the nation. "A big THANK YOU to the Maharashtra Police & the Police Forces across India who have been tirelessly working 24/7 to keep us safe. Jai Hind (sic)," Tendulkar wrote on his Twitter page.
On Saturday (May 9), it was revealed that Kohli and his Bollywood actress wife Anushka Sharma had donated Rs 5 lakh each for the welfare of Mumbai Police. The commissioner of Mumbai Police Param Bir Singh thanked Kohli and Anushka for their contribution.
Also read: Virat Kohli picks his 'favourite' match
"Thank you, @imVkohli and @AnushkaSharma for contributing Rs. 5 lacs each towards the welfare of Mumbai Police personnel. Your contribution will safeguard those at the frontline in the fight against Coronavirus. #MumbaiPoliceFoundation (sic)," Param Bir had tweeted.
Kohli had also appreciated the police personnel across the nation and acknowledged Delhi Police's efforts. "It is heartening for me to know that the police service across the nation is helping so many people in these difficult times. I want to acknowledge the efforts of Delhi police who have not only performed their duties with absolute honesty but also taken food to the poor people on a daily basis, which is their utmost requirement. So, well done and keep putting in the same effort."
Last Updated May 11, 2020, 10:18 AM IST