Coronavirus outbreak: Rohit Sharma posts video message; lauds doctors, nurses
Amid fears of coronavirus (COVID-19), India batsman Rohit Sharma has posted a message. He has asked everyone to stay safe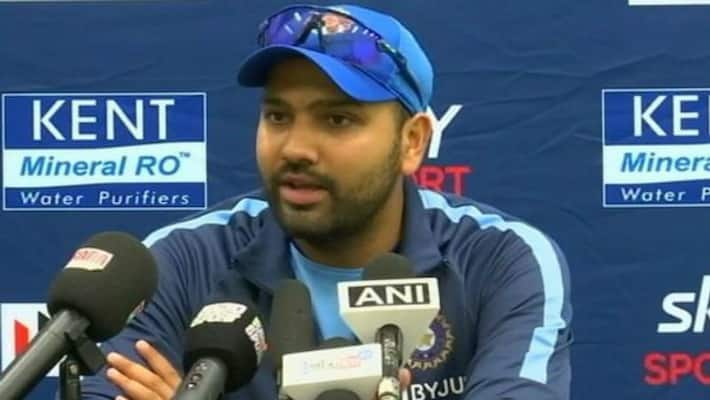 Mumbai: India batsman Rohit Sharma has urged everyone to care of themselves and be safe amidst the outbreak of coronavirus in the country and across the world.
Due to coronavirus (COVID-19), many sports events have been cancelled or postponed. IPL 2020 was to begin on March 29 but has been deferred till April 15 as the BCCI put players' and fans' safety ahead of the cash-rich Twenty20 league. The Indian cricket board also called the ODI series against South Africa.
Check out photos from Glenn Maxwell's engagement
In India, coronavirus cases have crossed 100 with two people losing their lives. The government of India has taken many measures to control the spread of coronavirus.
On Monday (March 16), Rohit took to the micro-blogging website Twitter to deliver a message to his fans.
Also read: Virat Kohli's message on coronavirus
"I just want to talk about few things. Last few weeks have been tough times for all of us and the world has come to a standstill which is very, very sad to see," said the Mumbai right-hander in a video posted on his Twitter page.
He continued in the 55-second video, "The only way we can come to normalcy is by all of us coming together. And, how we can do that is by being a little smart, a little proactive, knowing our surroundings and as and when we get any symptoms inform your nearest medical authorities. It's because we all want our kids to go to school, we want to go to the malls and we all want to watch movies in the theatres."
The 32-year-old limited overs vice-captain praised the doctors and nurses who have risked their lives to treat coronavirus patients.
"I appreciate the efforts of all the doctors and the nurses around the world who have put their lives on risk while taking care of the people who have tested positive with coronavirus.
"Last, but not the least, my heart goes out for the people who have lost their lives and their families. Take care, be safe," Rohit said.
Last Updated Mar 16, 2020, 3:08 PM IST