BCCI's Jay Shah hired tantrik to do black magic on Pakistan, claims Pak journalist after defeat to India in WC
Following Pakistan's eight World Cup defeat against India on Saturday, a Pakistani TikToker and journalist has alleged that India bagged the win owing to black magic.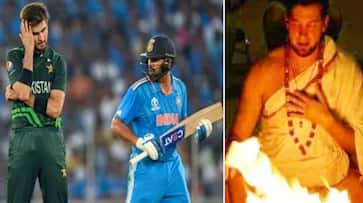 In the 2023 ODI World Cup, Pakistan faced yet another defeat against their arch-rivals, India. This marked the eighth occasion in World Cup history where Pakistan succumbed to an Indian victory. Pakistan's inability to secure a single win against India in the World Cup has led to India establishing an impressive 8-0 dominance in their head-to-head World Cup encounters. However, a controversial claim has emerged from a prominent Pakistani TikToker and journalist, Hareem Shah, who alleges that India's victory was not achieved through fair play but was a result of black magic. Hareem Shah took to her social media platform, X, where she posted a picture of a Tantrik while suggesting that Jay Shah, the Secretary of the Board of Control for Cricket in India (BCCI), orchestrated this black magic to influence the outcome of the match.
In her social media post, Hareem Shah wrote, "According to reliable sources, BCCI Secretary Jay Shah had enlisted the services of a black magic expert and Tantrik named Karthik Chakraborty to perform black magic on the Pakistani team. The International Cricket Council (ICC) should investigate this matter thoroughly, as it is simply unacceptable."
Hareem's belief is rooted in the notion that the Pakistani team was performing strongly at one point in the game, particularly when Captain Babar Azam and Mohammad Rizwan established a partnership of 84 runs for the third wicket. However, following Babar's dismissal, the team's batting order quickly crumbled, losing wickets like a house of cards. Rather than attributing this to the skill and strategy of the Indian bowlers, Hareem Shah sees a supernatural explanation.
It's worth noting that at one stage in the match, Pakistan was positioned at 155 runs for the loss of 2 wickets. Mohammad Siraj's dismissal of Babar Azam marked a turning point, as Pakistan's batting lineup collapsed, eventually posting a total of just 191 runs. In India's bowling department, the likes of Jasprit Bumrah, Mohammad Siraj, Ravindra Jadeja, Hardik Pandya, and Kuldeep Yadav all contributed with two wickets each.
Ultimately, India secured victory through strong performances from Rohit Sharma, who scored 86 runs, and Shreyas Iyer, who remained unbeaten at 53*. As a result, India remains undefeated in all three of its matches, securing the top spot in the points table of the ongoing ODI World Cup 2023. On the other hand, Pakistan's team currently occupies the fourth position with 4 points, having won two out of their three matches. India is scheduled to face Bangladesh in Pune on Thursday, while Pakistan is set to take on Australia in Bengaluru for their fourth match on Friday.
Last Updated Oct 17, 2023, 9:55 AM IST