'At least you...': What Pak actress who promised dinner date if Bangladesh beat India said after Kohli show
The article discusses India's ODI Cricket World Cup victory against Bangladesh, highlighted by Virat Kohli's remarkable century and a Pakistani actress Sehar Shinwari's social media reactions.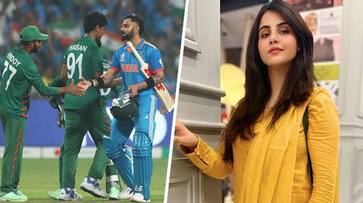 In a thrilling ODI Cricket World Cup 2023 match held in Pune on Thursday, the Indian cricket team emerged victorious against Bangladesh, securing a seven-wicket win. Virat Kohli, the former captain of the Indian cricket team, played a pivotal role, achieving his 48th ODI century as India successfully chased down a target of 257 runs in just 41.3 overs. This victory marked India's fourth consecutive win in the ODI Cricket World Cup, further strengthening their position in the top four of the points table.
One individual who may not be delighted with India's triumph is the Pakistani actress Sehar Shinwari. Prior to the India vs. Bangladesh match, Sehar Shinwari had shared her hopes on social media, expressing her wish that the "Bangali Bandu" would avenge Pakistan in the upcoming game. She even made a promise of having a fish dinner date with a Bangladeshi boy if their team managed to defeat India.
However, her wish remained unfulfilled, and following India's victory, she had a new message for the Bangladesh team, acknowledging their effort and competitiveness. "Well played Bengali Tigers. At least you guys challanged (sic) Indian team on their home ground," she wrote on X.
The match in Pune was a memorable one, especially due to Virat Kohli's exceptional performance. Kohli, often referred to as 'King Kohli,' not only marked his 48th ODI century but also secured his 78th international century and reached a milestone of 26,000 international runs. This achievement made waves in the cricket record books. Significantly, this century was Kohli's first in a World Cup since 2015 and his third overall.
During a post-match presentation, he apologized for winning the Player of the Match award, stating that he aimed to make a substantial contribution. Kohli expressed his delight in being able to finish the game, and he also reflected on the excellent start India had in the match. He credited the pitch conditions for allowing him to play his natural game and praised the positive atmosphere in the team's dressing room, emphasizing the importance of momentum and the spirited camaraderie among the players.
Last Updated Oct 20, 2023, 10:00 AM IST