Ahead of IPL 2021, Mumbai Indians' Hardik Pandya lives life the king way in latest video
Hardik Pandya has nailed it as an all-rounder for Team India and would once again aim to do the same with Mumbai Indians in the Indian Premier League. He is currently in the team bubble in Chennai along with his wife Natasa Stankovic and son Agastya.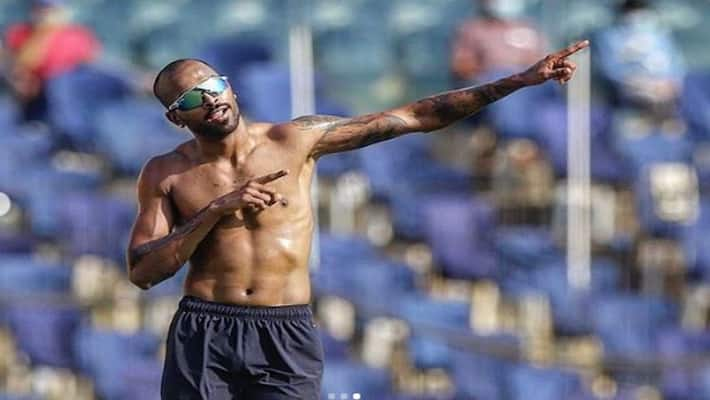 Indian all-rounder Hardik Pandya is once again ready to rock and roll in the Indian Premier League 2021 for Mumbai Indians. While he is training hard for another dominating IPL season, he is also chilling in the same manner.
Currently, Pandya is in Chennai, in the team bubble, ahead of MI's opener against Royal Challengers Bangalore on Friday. He has also been accompanied by his Bollywood wife Natasa Stankovic and son Agastya.
Recently, Pandya shared a video of himself living life in the king manner. The video happens to have the background score of the international hit 'Tresi Tresi' by Teodora. In the video, Pandya marches towards the camera in a half t-shirt and short and walks in. Immediately, he walks out and is seen leading into the swimming pool with a bare body and a glass of juice in his hand. He captioned the post, "Walking into the weekend!✨".
ALSO READ: Hardik Pandya's wife Natasa Stankovic lives her life freely in her latest click
Earlier, on Saturday, Pandya had shared a video of himself. It happened to be a collection of his photos from his childhood until now, depicting his stardom journey.
On Friday, he had shared another video of him and Natasa, as they are seen in the team hotel garden, where he points out towards the sport where they had celebrated Agastya's eighth-month birthday, as crows were consuming the leftovers.
He had also shared a picture of him and Agastya on the latter's eight-month birthday.
Last Updated Apr 4, 2021, 1:08 PM IST