Afghanistan creates history with first-ever on-field Test umpire
Afghanistan is currently playing Zimbabwe in a two-Test series in the United Arab Emirates. Afghanistan had already used an umpire in Tests previously, in the form of a television umpire, while this happens to be the first instance of an Afghan umpire in the format, on-field.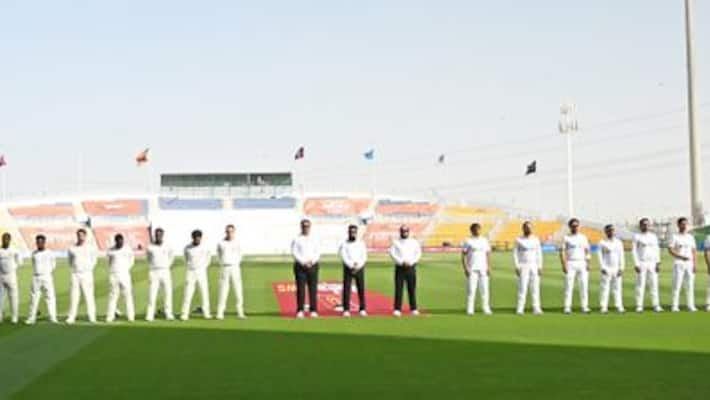 What could be considered a historic moment for Afghanistan cricket has fielded its first international on-field umpire. Ahmed Shah Pakteen has first the from the nation to officiate on-field during a Test.
Pakteen is currently officiating Afghanistan's first Test against Zimbabwe, presently being held at the Sheikh Zayed Stadium in Abu Dhabi. The two sides would be involved in two Tests, while Afghanistan is off to a shaky start to the opening Test.
Alongside Pakteen, Pakistan's elite-panel umpire of International Cricket Council, Aleem Dar, would be at his corner. Pakteen was also Afghanistan's first television umpire.
ALSO READ: Rohit Sharma, Ravichandran Ashwin among big gainers in ICC Test Rankings
Pakteen has made his international debut as an umpire in January 2017 and has since officiated in 15 ODIs and 20 T20Is. He is also the first Afghan umpire to have officiated in an ICC tournament during the 2020 ICC Under-19 World Cup.
While Afghanistan does not have any umpire in ICC's elite panel, its international panel consists of four umpires: Ahmed Shah Durrani, Bismillah Jan Shinwari and Izatullah Safi. Currently, Durrani from Afghanistan is handling the TV duties, as he has become the second from the nation to do so. Durrani has been officiating in international cricket since December 2016, having umpired 19 limited-overs ties.
With this, Ireland is now the only nation to have not fielded an on-field international umpire. Mark Hawthorne remains the only Irish umpire to have officiated a Test for his side against Pakistan in 2018 as the TV umpire.
Last Updated Mar 2, 2021, 4:51 PM IST