The original 'Shark Tanks': OYO founder Ritesh Agarwal on Bengaluru dosa points
Ritesh Agarwal, OYO founder and new judge on 'Shark Tank India,' likened Bengaluru's cafes, breweries, and dosa spots to the original "Shark Tanks," emphasizing the city's entrepreneurial spirit. He shared a photo enjoying a "Benne Dose" at CTR Malleshwaram and expressed his affinity for Bengaluru. His post resonated with followers.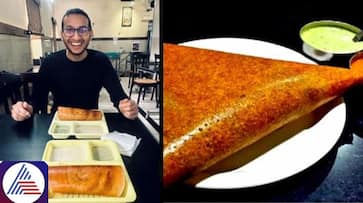 Ritesh Agarwal, the founder of OYO and the new judge on the latest season of 'Shark Tank India,' made an interesting analogy on Tuesday. He referred to Bengaluru's cafes, breweries, and iconic dosa spots as the original "Shark Tanks," drawing a parallel between these popular places and the TV show where entrepreneurs pitch their ideas to potential investors.
Agarwal shared a photo of himself at CTR Malleshwaram, a renowned tiffin centre in Bengaluru, enjoying a plate of "Benne Dose." In his post on Platform X (formerly Twitter), he expressed his affinity for the city and its entrepreneurial spirit.

Gurugram: Oyo founder Ritesh Agarwal pens emotional note after father falls to death from high-rise
He stated, "Bengaluru and its many cafes, breweries, even the legendary dosa points are the OG Shark Tanks. I consider myself part Bengalurian. Here's me at CTR Malleshwaram, a plate of Benne Dose goes great with startup convos." Benne Dosa is a dosa variant known for its generous use of butter and typically served with coconut chutney.

'Love is like...': Bengaluru auto displaying quirky message amid busy streets captivates the internet
Agarwal's post resonated with his followers, with one comment mentioning a memorable experience with masala dosa in Delhi.
Ritesh Agarwal's involvement as a judge on Shark Tank India's third season is a significant development. The show, inspired by the American version, provides a platform for aspiring entrepreneurs to pitch their business ideas to a panel of potential investors, often referred to as "sharks."
Last Updated Oct 4, 2023, 12:05 PM IST