'Love is like...': Bengaluru auto displaying quirky message amid busy streets captivates the internet
Bengaluru auto rickshaws are famous for their creative and humorous messages. A recent post on social media featured an auto rickshaw with a witty message, "Love is like a walk in the park, Jurassic Park." These playful messages bring humour to the city's busy streets.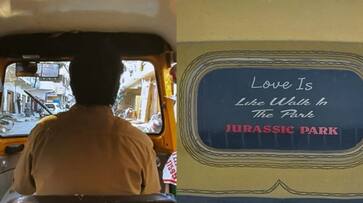 Bengaluru, the bustling tech hub of India, is known for its lively streets and quirky auto rickshaws. These three-wheeled wonders not only navigate through the city's chaotic traffic but also offer a dose of humour with their creative and often hilarious messages.
A recent post on social media showcased one such auto rickshaw, leaving netizens in splits. The picture featured an auto rickshaw adorned with a seemingly romantic message that read, "Love is like a walk in the park." However, the clever twist came in bold red letters below, stating, "Jurassic Park." It's safe to say that this auto rickshaw driver has a knack for blending love and humour.

Bengaluru: Here's how you can book auto through Metro Mitra app at Jayanagar metro
The post, shared by Samar Halarnkar on X (formerly Twitter), quickly gained traction with nearly 85,000 views. The caption humorously remarked, "Indeed, Bengaluru auto drivers and their philosophies."
This isn't an isolated case of witty auto messages in Bengaluru. The city's auto rickshaws have become renowned for their playful and creative wordplay. Another social media user commented, "Bengaluru auto slogans need an exhibition of their own. I'd pay to take it in!"

Mumbai-based CEO pays Rs 100 for 500 metre auto ride in Bengaluru, Twitter reacts
In a city notorious for its traffic jams and long commutes, these amusing auto rickshaw messages offer commuters a moment of levity amid the daily grind.
It's not just Bengaluru's streets that are known for quirky messages; even the auto rickshaws here join the fun. These playful messages not only add charm to the city but also remind everyone that humour can be found in the most unexpected places. So, the next time you hop into a Bengaluru auto rickshaw, keep an eye out for a dose of laughter along with your ride. Who knows what witty message might await you on the road?
Last Updated Oct 2, 2023, 3:56 PM IST