YSRCP MLA Roja lashes out at TDP for their 'below the belt' tactics
Roja lashes out at TDP for their attempts to stop Jagan from taking up his padayatra
She accused Chandrababu of having a criminal history, backstabbing his father-in-law NTR to become CM
She warned TDP that their countdown has started with Jagan's padayatra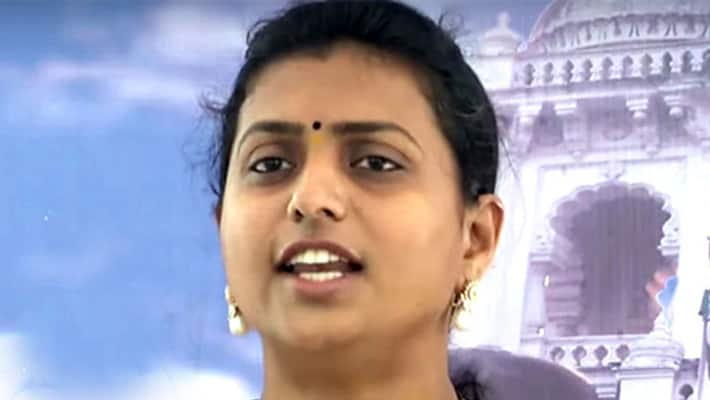 Yuvajana Sramika Rythu Congress Party Nagari legislator RK Roja criticised Telugu Desam Party for their 'below the belt' tactics to stop YSRCP supremo YS Jaganmohan Reddy's 'Praja Sankalpam' padayatra to commence from November 6.
Speaking at a Press Meet at YSRCP Central Office in Hyderabad, Roja lashed out at the TDP leaders for their plans to stop the padayatra at any means. She said that CM Chandrababu feared the growing favour of Jagan and is stooping low to demean his padayatra.
"YS Jagan's padayatra is the last journey of TDP government. Chandrababu's attacks on Jagan, who he fears Jagan's growing popularity. He has the history of backstabbing his father-in-law for political gain. He fell at the feet of the Centre when he was caught in the 'Note-for-Vote' case. He was responsible for the destruction at Tuni during the Kapu Reservation agitation. He united with Congress to destroy AP and was responsible for the bifurcation," she alleged.
She accused Chandrababu of ordering his leaders to stop Jagan's padayatra at any cost as he is scared that his cunning plots will be revealed to the people. She reiterated the fact that Jagan as an opposition leader has the right for the padayatra.   
She expressed her confidence that Jagan will succeed in the Praja Sankalpam yatra and that the countdown of TDP has started.
Last Updated Mar 31, 2018, 6:59 PM IST