YSRCP leaders stopped from meeting the victims of Krishna boat tragedy
TDP leaders ordered the police not to allow opposition leaders to the site of boat tragedy
The order was given by TDP MLC Buddha Venkanna to the police
Police acting under orders stopped YSRCP leaders from meeting the victims' families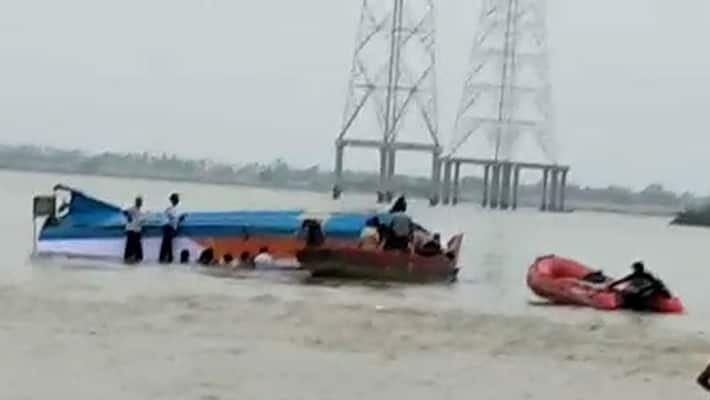 Vijayawada Police, allegedly, on the orders of TDP (Telugu Desam Party) leaders refused to allow YSRCP (Yuvajana Sramika Rythu Congress Party) leaders from entering the site of the boat tragedy near the Krishna River. The order was issued by TDP MLC Buddha Venkanna to the police.
Acting on the orders, police refused to allow YSRCP leaders Kolusu Parthasarathy, Samineni Udayabhanu and Jogi Ramesh to meet with the families of the victims and console them. When the leaders reached the spot, the CP ordered to send them back causing tension in the area.
Congress leaders faced a similar situation when PCC (Pradesh Congress Committee) chief Raghuveera Reddy, DCC Chief Dhanekula Murali, Woman wing leader Sunkara Padmasri and Meesala Rajeswara Rao came to condole the victims. Congress party workers agitated against the attitude of the police and the police withdrew.
The boat carrying 38 people hired by Ongole Walkers Club capsised in Krishna River at Ferry village close to 'Pavitra Sangamam' near Vijayawada on Sunday evening. The death toll till late last night being 16 has risen to 19 with three more bodies recovered this morning. 20 people have been rescued. The boat which capsized due being overloaded was operated by Simple Water Tours.    
Last Updated Mar 31, 2018, 6:37 PM IST