Women share their tales of woes with YS Jagan in his Praja Sankalpa padayatra
YS Jagan on his 22nd day of padayatra went from Venkatagiri to Kodumuru
These areas are famous for handloom industries
Women in the industry met YS Jagan and shared their sorrows and troubles in weaving industry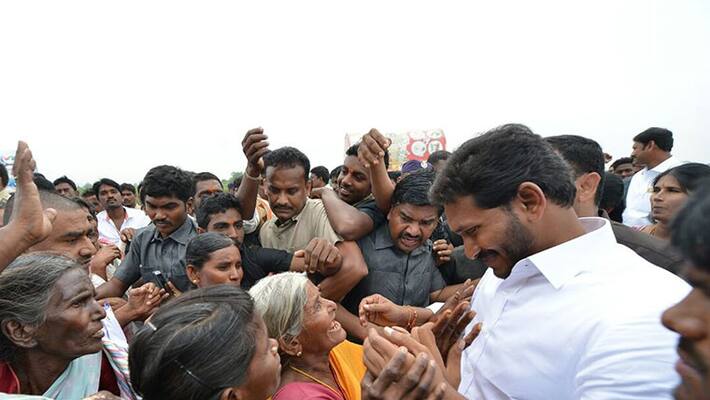 Yuvajana Sramika Rythu Congress Party supremo YS Jaganmohan Reddy on his 22nd day of Praja Sankalpa padayatra started from Venkatagiri to Kodumuru, which are famous for handloom industry. Three thousand families are dependent on the handloom industry in Kodumuru and surrounding areas.
Women from the villages greeted him and shared their woes of weaving and the effect of Goods and Service Tax on the industry.
Sai Sadguna, a weaver's wife narrated her tale of woe as to how her husband Sai Raghavendra committed suicide by hanging due to his debts. She said the government failed to pay compensation though it's been a year since his death.
She also shared that she had to stop education of her Class VI son Pandarinath and send him for hotel work to clear the dues.
Moved by her pathetic tale, Jagan encouraged her to educate her child in spite of troubles. He also asked her to wait patiently for a year and that he would stand by all of them.
Last Updated Mar 31, 2018, 6:57 PM IST