In father's footsteps: Can Jagan's padayatra recreate YSR magic?
Political history shows leaders becoming CMs after their padayatra's
Padayatra made YSR CM after 9 years of TDP rule and Chandrababu became CM after 9 years of Congress rule
Will the same charm, work for Jagan as well?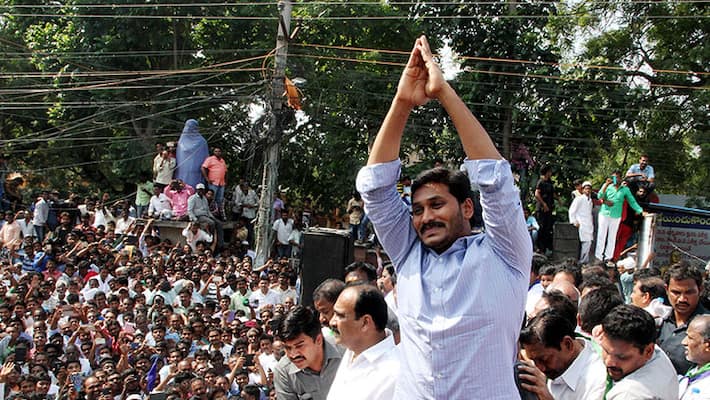 With much fanfare on Monday, YSRCP party chief Jagan Mohan Reddy kicked off his six-month-long "Praja Sankalpa Yatra" in Andhra Pradesh.
Padayatra politics has always proved to be a time-tested formula that has helped politicians win the favour of people in Andhra Pradesh. Jagan's father and former AP Chief Minister YS Rajasekhar Reddy won over the people of the state after his famous padayatra that saw the end of a nine-year rule of TDP.
Present CM and Telugu Desam Party chief Nara Chandrababu Naidu also has used padayatra to a favourable end.
With the commencement of JMR's padayatra from Monday at Idupulapaya, there arose an interest in the precedent padayatras and the political circumstances and conditions in the state leading to it.
The first padayatra was of former departed CM and JMR's father YSR. During his time the people of AP were tired of the rule of TDP, the famine circumstances in the state, dissatisfaction of the people in every field, be it farmers or employees. The antagonism against the TDP government and the supporting hand extended by YSR led to the downfall of TDP and the formation of government by YSR, who became the undaunted leader of all times.
When Chandrababu commenced his padayatra, there was unrest among the people with the Congress bent on bifurcation, the sudden death of YSR in a helicopter crash and Jagan was still finding his bearing. To the AP citizens, Chandrababu then was a blessing in disguise who gave him the power to rule.
Situation, however, is quite different today. While there are murmurs of discontent towards the government, Chandrababu still continues to enjoy the trust of the public. Then there is also the quite rise of Pawan Kalyan who through his Jana Sena Party is slowly proving to be a worthy adversary. 
Last Updated Mar 31, 2018, 7:01 PM IST