We are unable to bear the burden of our children's education: Village women to Jagan
Women complain to YSRCP supremo YS Jagan about their inability to educate their children in his Praja Sankalpa padayatra
They cannot bear the burden of education fee without scholarships
Jagan promises for scholarships to students when his government comes to power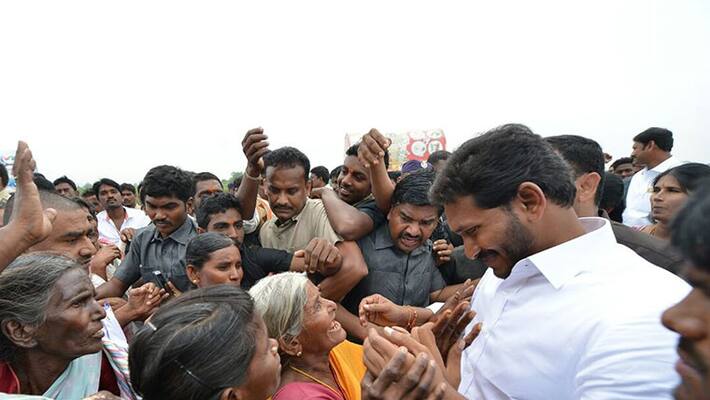 Yuvajana Sramika Rythu Congress Party supremo YS Jaganmohan Reddy on his 16th day of Praja Sankalpa padayatra met women in Ramallakota who listed out their complaints to the leader. Their main problem is their inability to educate their children without scholarships.
Immediately after Jagan started his padayatra on Thursday from Narsapuram Cross in Veldurthi Mandal of Kurnool district, women from Ramallakota surrounded him and expressed their anguish over their children's education.
They said their children are studying intermediate and graduation and because of lack of scholarships are forced to discontinue their studies as they are unable to pay the fee with their meagre daily wages. Jagan was moved by their tears and promised scholarships if their party cames to power.
Another woman Kalugotla Nagalakshmamma told Jagan that her husband Sunkaiah, who was a farmer, committed suicide in 2015 due to loans and complained that the officials have not paid compensation as she is forced to run from pillar to post.
A Class VII student Rajesh from Ramallakota complained that he has not received scholarship in spite of submitting the application online and opening a bank account. He begged 'Jagan Anna' to stand by poor students like him to which Jagan readily agreed.
Last Updated Mar 31, 2018, 6:38 PM IST