Thousands throng Jagan's political rally in Nandyal
The open-air YSRCP meeting in Nandyal SPG grounds saw a huge audience turnout.
The ground, as well as the surrounding streets, was brimming with YSRCP supporters
YSRCP supporters from all the corners of Kurnool District turned up at the grand meeting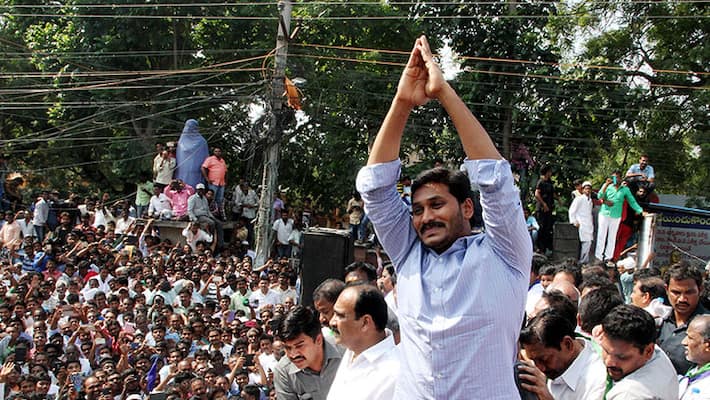 Yuvajana Sramika Rythu Congress Party (YCP) supremo YS Jagan Mohan Reddy's open-air meeting in Nandyal to campaign in support of former TDP leader Silpa Mohan Reddy in the by-election was a huge success with people thronging the venue.
The meeting was held in Nandyal SPG grounds and the packed crowd hailed Jagan as soon as he entered the venue with slogans of 'Jai Jagan' and 'Johar YSR'. People from all corners of Kurnool district thronged the grounds and even filled up the nearby streets.
Political pundits observe that despite Telugu Desam Party (TDP) chief and Andhra CM Chandrababu Naidu campaigning non-stop in Nandyal for the past two months, crores being spent on welfare schemes for the people still the people mood seemed to have been in the favour of Jagan Mohan.
Muslim women and youth were the majority who participated in the meeting. The meeting which started at 3 pm continued into the evening and was a huge success with massive crowd turnout.
Last Updated Jun 12, 2019, 1:11 PM IST