TDP likely to snap ties with BJP, two ministers all set to quit Modi cabinet
Telugu Desam Party MLAs and MLCs on Tuesday urged Chief Minister Chandrababu Naidu to snap ties with the Bharatiya Janata Party
The process of separating from the national ally may begin on March 10
All 125 MLAs and 34 MLCs, barring six absentees, strongly advocated ending the alliance with BJP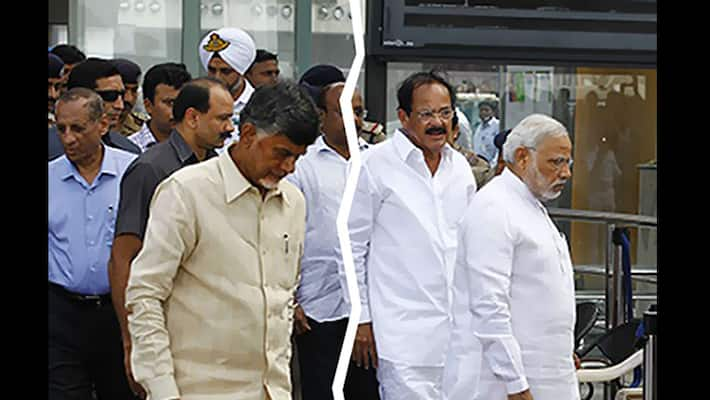 With the Centre making it clear that giving special status to Andhra Pradesh is not feasible, Telugu Desam Party MLAs and MLCs on Tuesday urged Chief Minister Chandrababu Naidu to snap ties with the Bharatiya Janata Party.
TDP president and chief minister N Chandrababu Naidu is likely to set the separation process in motion beginning with the resignation of two TDP ministers Ashok Gajapathi Raju and YS Chowdhary from the Narendra Modi cabinet, reported the Times of India.
The process of separating from the national ally may begin on March 10.
At the TDP Legislature Party meeting in Vijayawada on Tuesday, including his party colleagues in the Cabinet, Naidu said Union Finance Minister Arun Jaitley cold-shouldered a delegation led by state Finance Minister Y Ramakrishnudu that met him on Monday evening, reported the Indian Express.
All 125 MLAs and 34 MLCs, barring six absentees, strongly advocated ending the alliance with BJP.
"Jaitley not only refused to acknowledge any of demands put forward, including the request to release funds to bridge the revenue deficit gap of over Rs 16,000 crore, but also said there was no question of granting Special Category Status and that there was very little fund left to give under the special package announced in 2017 as most of the funds have already been given. This attitude is very disparaging and unacceptable," Naidu was quoted saying in the meeting, reported the Indian Express.
The TDP has received support from Congress. Party president Rahul Gandhi said that his party will grant special category status to Andhra Pradesh if voted to power in 2019. Even the Aam Aadmi Party has extended its support to the demand. "We will give special category status to Andhra Pradesh. It's the first thing we will do after coming to power in 2019," he told a group of party workers who protested at Jantar Mantar demanding special status for Andhra Pradesh.
AAP MLA Somnath Bharti, who also joined the protest, said he had come to extend support on behalf of Delhi chief minister Arvind Kejriwal.
Last Updated Apr 4, 2018, 7:10 PM IST