WATCH: Tesla's humanoid robot performs yoga, CEO Elon Musk calls it 'progress'
Tesla shared a video of its humanoid robot Optimus performing a variety of tasks including doing yoga and sorting blocks by colour autonomously. The robot performs yoga poses that require standing on one leg and extending its limbs, displaying its balance and flexibility.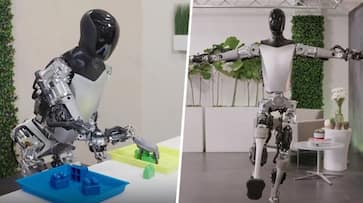 Tesla on Sunday posted an interesting video of their humanoid robot Optimus engaging in various activities, such as yoga and automatically sorting building blocks by color. The robot's capacity to sort things easily and quickly is first demonstrated in the film. Robot is able to quickly adapt to this shift and effectively complete the assignment even when human intervention adds complexity to the task. 
The robot then exhibits its balance and flexibility by engaging in yoga positions that require it to stand on one leg while stretching its limbs. According to the video, Optimus can now adjust its arms and legs on its own. With the aid of joint position encoders and eyesight, it can also accurately locate each of its limbs in space. 
The official Tesla Optimus account shared the video and captioned it as ''Optimus can now sort objects autonomously. Its neural network is trained fully end-to-end: video in, controls out. Come join us to help develop Optimus (& improve its yoga routine).''
The video is noteworthy because it demonstrates that TeslaBot is now powered by the same end-to-end neural network as the Tesla cars, which can interpret visual input and provide control output.
Elon Musk, the company's CEO, responded to the video with the word "Progress." The bot was announced at Tesla's 'Artificial Intelligence Day' event in August 2021. Musk had said that Tesla would come up with a prototype by 2022.
In addition to the bot, Tesla is working on other initiatives in this area, such as "AI inference chips," developing algorithms to drive autonomous Tesla automobiles, and training deep neural networks for the Autopilot system.
Last Updated Sep 25, 2023, 9:50 AM IST