Watch: Australian man builds giant laughing kookaburra during coronavirus lockdown; Twitterati impressed
Using steel, fibre glass, bamboo and ply boards, an Australian man has built a giant laughing kookaburra during the coronavirus lockdown. Now, it is giving joy to the people of a town in Brisbane, Queensland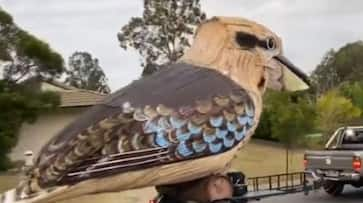 Brisbane: An Australian artist has spent his time in the coronavirus (COVID-19) lockdown to build a giant laughing kookaburra bird. His 13-foot creation is brining smiles on people's faces and is also well-appreciated on social media.
Also read: WHO warns first phase of coronavirus pandemic not over
Artist Dr. Farvardin Daliri shared a video on his Twitter account in which he is towing the giant laughing kookaburra around Bellbowrie, Brisbane, in Queensland.
Also read: World's fastest internet speed recorded in Australia
Dr. Daliri wrote along with the video, "Used my time in lockdown to build a giant laughing Kookaburra. #giantlaughingkookaburra (sic)."
When one of the Twitter users asked what it is made of, the artist replied, "Long story. Used steel, fibre glass, bamboo and ply boards. Took decades of practice."
"It's made with steel round bars that are rounded and put together and locked," Dr. Daliri told ABC Radio Brisbane.
"Then on the top of the holographic steel bars which are light enough to travel, I put natural materials like bamboo skins which are being treated and painted. It forms a nice shape of the kookaburra with feathers and a moving jaw.
"The lower beak hangs with a motor that pulls a shaft up and down, with a sound effect that is also in-built, so the kookaburra can laugh for everyone to hear," he added.
He said, hearing the laughs of his creation, original kookaburras come around. "As soon as he starts laughing, the other kookaburras start coming around. I constructed it on the trailer so it's all one piece with a platform around it so people can have their photo taken with it."
Dr. Daliri's daughter Rafaan too had shared the video of giant laughing kookaburra with the caption, "So my Dad made good use of his time in lockdown and built a huge laughing Kookaburra." This video has been viewed over two million times.
"We want to have the last laugh over COVID-19 with the kookaburra, we'll also have laughing workshops along the road so we can get everyone laughing around it and make them feel better," Dr. Daliri was quoted as saying by ABC News website. Dr Daliri is planning to drive the kookaburra north to Townsville in the last week of July as restrictions ease, it added.
According to Australian Museum website, "Laughing Kookaburras are found throughout eastern Australia. The Laughing Kookaburra inhabits most areas where there are suitable trees. It is one of the larger members of the kingfisher family."
Last Updated May 27, 2020, 7:09 PM IST