Terrorists strike Pakistan's Mianwali Air Force base (WATCH)
The ISPR confirmed that three terrorists were successfully neutralized before they could breach the base, and the remaining three were subsequently contained and isolated. Regrettably, the ISPR also noted some damage incurred by three aircraft already grounded and a fuel bowser during the course of the attack.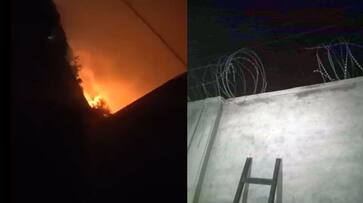 A terror attack at Mianwali Air Force base in Pakistan's Punjab province by six heavily-armed terrorists. Operations are currently underway to secure the base. According to reports, at least four terrorists have been eliminated.  The Taliban-Linked Terrorist Group, Tehreek-e Jihad (TTP) has claimed responsibility for the Mianwali Air Force Base attack. The terrorists reportedly snuck into the base using ladders. They reportedly destroyed some aircraft as well as some armored vehicles.
The Mianwali base holds significant importance within the Pakistan Air Force Base network. As a vital component of the Northern Air Command, it accommodates the Op Conversion Unit, Combat Training Unit, Fighter Conversion Unit, and the Search and Rescue Alouette Unit.
According to a statement released by Pakistan's Inter Services Public Relations, the attempted terror attack was unsuccessful. The statement highlights that thanks to the swift and efficient response of the troops, the attack, which commenced in the early hours, was thwarted, ensuring the safety and security of personnel and assets.
The ISPR reported that three terrorists were neutralized before they could breach the base, while the remaining three were cornered and isolated. Nevertheless, the ISPR acknowledged some damage to three already-grounded aircraft and a fuel bowser during the attack.
While disclosing that a comprehensive joint clearance and combing operation is in its final stages to completely secure the area, the ISPR reaffirmed Pakistan's armed forces' unwavering commitment to eradicating the menace of terrorism.
Last Updated Nov 4, 2023, 9:59 AM IST