North Korea's Kim Jong Un plans rare trip to Russia for arms talks with Vladimir Putin amid Ukraine war
The article discusses Kim Jong Un's anticipated rare trip to meet Vladimir Putin, focusing on arms negotiations between North Korea and Russia for the conflict in Ukraine, amid concerns about international norms and the effectiveness of sanctions.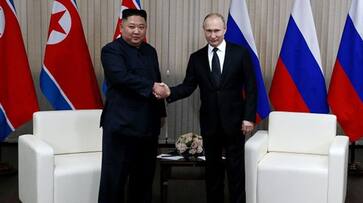 North Korean leader Kim Jong Un is reportedly planning a rare trip abroad to meet with Russian President Vladimir Putin, and the discussions are expected to revolve around providing arms to Moscow for its involvement in the war in Ukraine, according to the United States. The White House's National Security Council (NSC) spokeswoman Adrienne Watson confirmed that negotiations between Russia and North Korea regarding arms are progressing actively. Kim Jong Un anticipates these discussions to continue, possibly even at the leader level, in Russia.
"We have information that Kim Jong Un expects these discussions to continue, to include leader-level diplomatic engagement in Russia," she added.
Last week, the United States had issued a warning that Russia was engaged in secret talks with North Korea to procure a variety of munitions and supplies to support its war efforts in Ukraine. Reports suggest that Kim may travel by armored train to Vladivostok on Russia's Pacific coast this month to meet with Putin. Putin is said to be interested in acquiring artillery shells and antitank missiles from North Korea, and there is even speculation about Kim visiting Moscow. However, the specifics of the trip remain uncertain. In return, Kim is reportedly seeking advanced technology for satellites, nuclear-powered submarines, and food aid for North Korea.
There are indications that an arms deal between Pyongyang and Moscow is increasingly likely, as mentioned by an official at Seoul's unification ministry. Nonetheless, it is emphasized that any cooperation between North Korea and its neighboring countries must adhere to international norms and promote peace.
The United States previously revealed that North Korea supplied infantry rockets and missiles to Russia in 2022 for use by the privately controlled Wagner military group. Russian Defense Minister Sergei Shoigu visited North Korea in July in an effort to secure additional munitions for the ongoing conflict.
Some experts argue that both North Korea and Russia are seeking to break away from diplomatic isolation and that a summit between Kim and Putin would send a diplomatic message, particularly in light of the growing defense cooperation between the United States, South Korea, and Japan.
At the United Nations last week, the United States, Britain, South Korea, and Japan expressed concerns that increased cooperation between Russia and North Korea would violate Security Council resolutions prohibiting arms deals with Pyongyang, resolutions that Moscow had previously endorsed. Following Shoigu's visit to Pyongyang, another group of Russian officials reportedly conducted follow-up talks with North Korea.
Despite sanctions imposed by the United States last month on entities facilitating arms deals between North Korea and Russia, some experts believe that sanctions alone will do little to deter such trade. The ongoing war in Ukraine and the strategic competition between the United States and China have complicated the effectiveness of the current UN Security Council system. As a result, military cooperation between Russia and North Korea is perceived by some as "unstoppable."
Ukrainian officials have reported some progress in their counteroffensive efforts, but Russian President Putin recently characterized these efforts as a failure during a press conference with Turkish leader Recep Tayyip Erdogan in Sochi.
The news of the potential meeting between Kim Jong Un and Vladimir Putin coincided with Ukrainian President Volodymyr Zelenskyy's visit to the war-torn Donetsk region in eastern Ukraine, where he met with soldiers and posted a video from the frontline.
Last Updated Sep 5, 2023, 11:13 AM IST