New Poll show Justin Trudeau losing popularity in Canada, Pierre Poilievre the preferred choice
According to a recent survey, opposition leader Pierre Poilievre has emerged as the favored candidate for the job of prime minister, and Justin Trudeau would lose if elections were conducted in Canada today.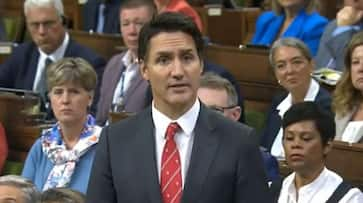 Canadian Prime Minister Justin Trudeau lags behind in a new Ipsos poll done for a news platform as the Opposition Conservative Party leader, Pierre Poilievre, emerged as the preferred choice as Prime MInister by 40 per cent of the citizens, news agency ANI reported citing Global News.
When Canada holds its next election in 2025, the data showing a difference between the two leaders suggest that the Conservatives may have a good chance of winning a majority and forming a new government, according to media reports.
Pierre Poilievre's popularity in the polls is on the rise, with 40% of Canadians saying he would make the best prime minister.  His favorability rating on this subject is five points higher than it was a year ago. On the other hand, the proportion of respondents who think Justin Trudeau is the greatest option has remained constant over the last year at 31%.
The poll done by ISPOS for Global News shows 40% of the respondents surveyed by the agency preferring Poilievre as the PM against 31% for Trudeau and 22% for Jagmeet Singh
This research indicates that a number of Canadians believe Poilievre has the greatest strategies for addressing important national concerns including the economy, healthcare, and housing.
It is important to note that Poilievre had urged Justin Trudeau to come clean and present all the evidence in the ongoing diplomatic dispute between India and Canada over Trudeau's claims that India was complicit in the killing of Khalistani terrorist Hardeep Singh Nijjar on Canadian soil.
"I think the prime minister needs to come clean with all the facts. We need to know all the evidence possible so that Canadians can make judgments on that…the prime minister hasn't provided any facts. He provided a statement," Poilievre said in a media address on Tuesday.
Meanwhile, Trudeau has so far not furnished any evidence to prove India's involvement in the killing of a Khalistani separatist leader in Canada. India on Thursday said no evidence had been provided to it either.
Last Updated Sep 22, 2023, 1:46 PM IST