New Labour leader Keir Starmer tears into Dominic Raab over COVID-19 testing failures in UK
New Labour leader Keir Starmer accused Dominic Raab-led government over slow coronavirus testing and PPE failures in the first virtual Prime Minister's Questions even as Foreign Secretary Raab blamed logistical issues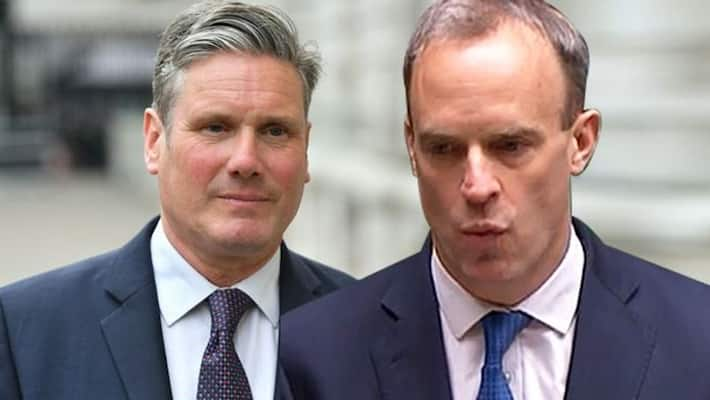 London: New Labour party leader Keir Starmer tore into Dominic Raab over coronavirus testing and PPE blunders today as he made his debut as Labour leader at the first 'virtual' Prime Minister's Questions.
Starmer, who addressed a largely empty House of Commons chamber on Wednesday due to social distancing rules, said the UK government had been "very slow" in meeting its pledge to carry out 100,000 tests by the end of April.
Boris Johnson is still recovering from coronavirus, but Foreign Secretary Dominic Raab, acting as the PM's deputy, took his place at Wednesday's meeting.
The latest figures show the UK is carrying out less than 18,000 tests each day.
Raab was on the backfoot as he defended the painful progress towards the target of 100,000 tests a day by the end of the month.
But after Sir Keir pointed out that the number of checks being carried out daily is still less than half the potential capacity of 40,000, he acknowledged that many of those eligible had 'transport problems' about getting to testing centres.
"Something is going wrong and there is a pattern emerging here. We were slow into lockdown, slow on testing, slow on protective equipment, and now slow to take up these offers from British firms," he said.
"We have been very slow and way behind other European countries," Starmer said.
He added, "We're way behind the curve and the end of the month is a week away tomorrow."
However, Dominic Raab said, "I do have to correct him. Our capacity is now 40,000 tests a day which is an important milestone."
Starmer responded, "I didn't need correcting, because I gave the figure for the actual tests a day."
The exchanges came after Members of Parliament on Tuesday voted to allow virtual attendance of the sessions. MPs from around the UK used the video-conferencing app Zoom to address questions to the First Minister.
Last Updated Apr 24, 2020, 5:34 PM IST